Where do Gwinnett County Candidates for Sheriff Stand on Policing and Immigration Enforcement?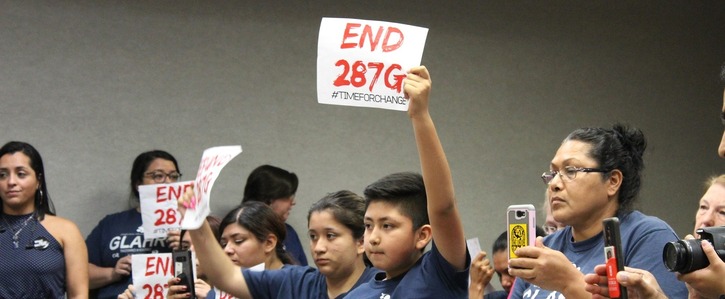 On June 9th, residents of Gwinnet County in Georgia will get a chance to vote for a candidate for Sheriff. Because the Sheriff has power over jails and can choose whether to work with immigration enforcement, the lives of our communities are deeply impacted by the views of whoever is in that seat.
Southerners on New Ground (SONG), Georgia Latino Alliance for Human Rights (GLAHR), and Mijente Support Committee have asked all the candidates running for Sheriff to answer questions that impact Georgia communities of color and LGBTQ people, specifically when it comes to jail conditions, criminalization, money bail, and immigration enforcement.
Join us for this digital town hall to hear what the candidates for Gwinnett County Sheriff responded and discuss how their positions can impact our lives.
++++++++++++++++++++++++++++++++++++++++
¿Qué Piensan los Candidatos para Sheriff del Condado de Gwinnett Sobre la Criminalizaíon y Deportación?
El 9 de junio, los residentes del Condado de Gwinnett en Georgia tendrán la oportunidad de votar por un candidato para Sheriff. Debido a que el Sheriff tiene poder sobre las cárceles y puede elegir trabajar con agentes de inmigración, las vidas de nuestras comunidades se ven profundamente afectadas por las opiniones de quien esté en ese puesto.
Los Sureños en Nueva Tierra (SONG), Alianza Latina de Georgia para los Derechos Humanos de Georgia (GLAHR) y el Comité de Apoyo de Mijente, han pedido a todos los candidatos que se postulan para Sheriff que respondan preguntas que afectan a las comunidades de color y a las personas LGBTQ, específicamente cuando se trata de las condiciones de la cárcel , criminalización, fianzas, y colaboración con las agencias de inmigración.
Únete durante esta junta digital para escuchar lo que respondieron los candidatos para el Sheriff del Condado de Gwinnett y discutir cómo sus posiciones pueden afectar nuestras vidas.
Starts on
Thursday, April 16, 2020 at 5:00 PM EDT
Ends on
Thursday, April 16, 2020 at 7:00 PM EDT