To:

Philadelphia Mayor Jim Kenney
Give Immigrants and Youth a Vote on Philly School Board!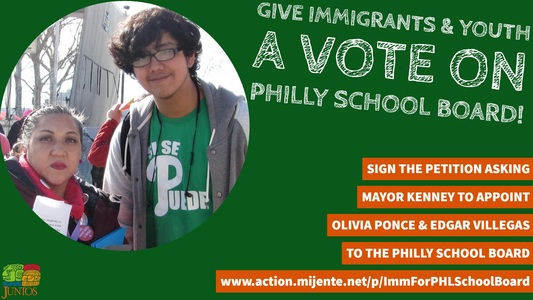 Ask Philadelphia Mayor Jim Kenney to appoint Olivia Ponce and Edgar Villegas to the new locally controlled Philadelphia Public School Board and allow the voices of our immigrant community and young people to be heard when it comes to the future of their schools.
Why is this important?
Philadelphia has won back local control of our School Board after almost two decades of state control over our public schools. For too many years our families have felt powerless in trying to improve our schools but now we see an opportunity for change. As the city and our Mayor prepare to appoint new School Board members we must ensure that the voices of those most impacted by an unjust and unequal education system are at the forefront of how decisions are made. Philadelphia is home to tens of thousands of immigrants and their voice and vote MUST be a part of this new school board if we wish to call ourselves a welcoming city.
That is why we ask that you sign this petition in support of having two amazing immigrant rights leaders, Olivia Ponce and Edgar Villegas, appointed to our next school board so they can represent our community with their voice and with a power to vote on decisions that will affect our everyday lives.
Olivia Ponce is an is an immigrant mother from Mexico of two and community leader in South Philadelphia. She has a daughter who graduated from the School District of Philadelphia and has a son who is a freshman at Central High School. As such, she has experienced first hand the hurdles faced by many immigrant families in our city. In 2012 while her son's elementary school was slated for closure, she helped lead organizing efforts to keep her son's school open. Eventually his school was closed but it was her leadership along with many others that prevented many other schools from closing that year. She has passionately fought for language access in schools, more equitable funding for children of color, ending the criminalization of youth, parent participation in their schools regardless of immigration status and has been active in pushing for Sanctuary Schools.
Edgar Villegas is a 15-year-old freshman who attends the Creative and Performing Arts High School. He is the son of undocumented parents from Mexico, and as such he knows firsthand the experience of growing up in a mixed status household. He got involved with the latino immigrant rights organization Juntos when he was 13 years old because he understood the growing threat of deportation that many undocumented people in his community face and wanted to fight back against it. While studying at Abigail Vare School in 2012, he was active in the organizing efforts to keep his school open. He strongly believes in the power of youth leadership and is committed in ensuring that all young people, regardless of immigration status, have their voices heard when it comes to their education