To:

Daniel Bible, ICE Houston Director
Stop Pauline's Deportation
Pauline was released!!! Thank you for your support of this campaign.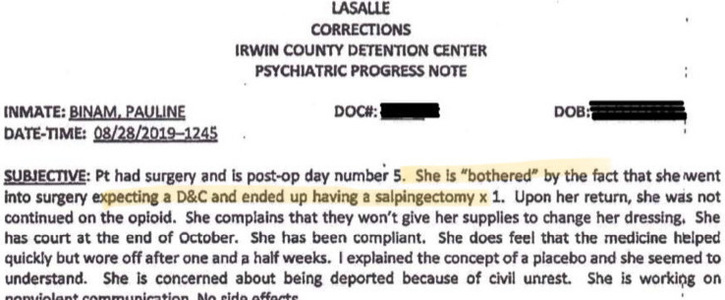 10/4 UPDATE: Pauline has been released and reunited with her family. She begins the long journey to recover from her time in detention. If you can, please contribute to Pauline's support fund: bit.ly/supportpauline
Why is this important?
I respectfully request that you exercise discretion and grant Ms. Pauline Binam's request to stay in the United States as investigations are underway into the harm she experienced during her time at the Irwin County Detention Center (ICDC) in Georgia.
While at ICDC, doctors performed gynecological surgery and removed parts of her reproductive organs without Ms. Pauline Binam's consent. She is scheduled to be deported tomorrow, just as we are learning that she was not the only woman in the Georgia detention center who was subjected to invasive surgery without her knowledge. Pauline still suffers from health complications as a result of her surgery, and her ability to have children has been drastically reduced. It is appalling and robs Pauline of the justice seeks to deport her in light of these revelations.
Pauline is a loving and committed mother. While in detention for nearly three years, she has missed four of her daughter's birthdays. She is a longtime resident of the U.S., having immigrated from Cameroon when she was 2 years-old. She graduated from high school and attended University of North Carolina-Charlotte before needing to quit school to take care of her sick father. She's also a survivor of three brutal and toxic relationships that led her through dark times. At a time when Pauline was resetting her life to focus on her daughter she was placed in immigration detention. While in detention, she suffered irreversible harm due to the cruel treatment of a doctor who is currently being investigated by the Office of the Inspector General of the Department of Homeland Security.
With new information coming to light every day and the ongoing investigations into the crimes committed against Pauline and other women who suffered injuries such as hers, we ask that you halt Pauline's deportation and release her to her family during this difficult time.