To:

Attorney General William Barr and EOIR Director, James McHenry | Fiscal General William Barr Director de la EOIR, James McHenry
Put Interpreters Back in the Courts! | ¡Restituyan la interpretación en tribunales de inmigración!

Language Justice League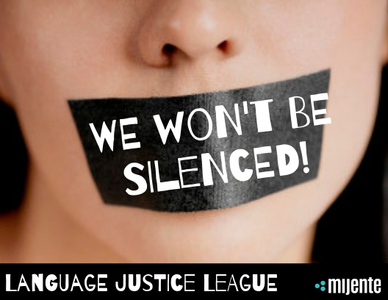 We the undersigned request that you reverse your recent action to replace in-person interpreters with videos during master calendar hearings in immigration court.
Exigimos que restituya la interpretación en vivo y presencial que fue sustituida con videos en las audiencias previas en los juzgados de inmigración.
Why is this important?
In the United States, we provide interpreters in immigration courts because we believe in the fundamental principle that the voice of any person appearing before a court, be it criminal or immigration court, is the one voice all parties need to.
Due Process rights in the United States are premised on a person's ability to speak the truth, to present their evidence and appeal to the Court—and this includes their right to be linguistically and meaningfully present in proceedings against them.
Interpreters play an important role in ensuring that people who are not able to speak in English with proficiency can be heard in their own words.
There can be no justice without Due Process, and there can be no Due Process without meaningful language access.
You can learn more about this issue here:
https://mijente.net/2019/08/22/mijentes-language-justice-league-responds-to-the-administrations-move-to-silence-immigrant-voices-and-remove-court-interpreters
En los Estados Unidos, se proporcionan intérpretes en los tribunales de inmigración porque creemos en el principio fundamental de que la voz de la persona que comparece ante un juzgado, ya sea penal o de inmigración, es la voz más importante que todas las partes necesitan escuchar.
Los derechos del debido proceso legal en los Estados Unidos se basan en la capacidad que cada persona tiene para decir la verdad, presentar sus pruebas y apelar a la corte, y esto incluye su derecho a estar presente lingüística y significativamente en todos los procesos en su contra.
No puede haber justicia sin debido proceso legal, y no puede haber debido proceso legal sin acceso significativo y libre de barreras del lenguaje. Creemos que los intérpretes juegan un papel importante en asegurar que las personas que no dominan el inglés puedan ser escuchadas en sus propias palabras.
Puedes aprender más sobre este tema aquí:
https://mijente.net/es/2019/08/22/la-liga-de-justicia-en-el-uso-del-lenguaje-de-mijente-responde-al-esfuerzo-de-la-administracion-para-silenciar-la-voz-del-inmigrante-y-remover-a-interpretes-de-los-tribunales/