To:

Phoenix City Councilmembers & City Manager
The People Have Spoken: Add the Community Demands to the Phoenix Budget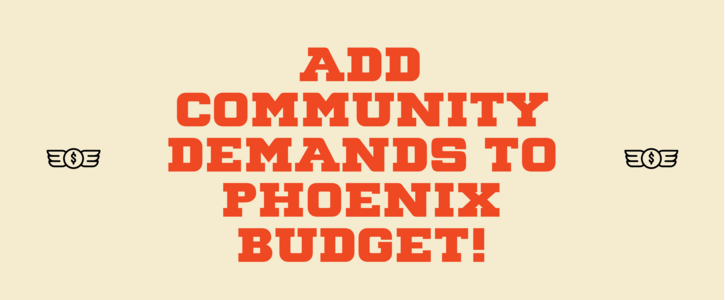 We need the City of Phoenix Council and the City Manager to add a trauma compensation fund for communities impacted by police violence and a legal defense fund for families being separated by the collaboration of PHX PD with ICE, to the city budget.
-------
Necesitamos que el Concejo de la Ciudad de Phoenix y el Administrador de la Ciudad agreguen un fondo de compensación de trauma para comunidades afectadas por violencia policial y un fondo de defensa legal para familias separadas por la colaboración de la policia con ICE, al presupuesto de la ciudad.
Why is this important?
Every year, the city council votes on a budget. This year, there has been overwhelming amount of participation from community, especially people of color and allies. People left work early, shared rides, coordinated child care, knocked on doors and broke fears to participate in the budget process to have their voices heard in favor of community demands to address police violence and police/ ICE collaboration.
However, despite the overwhelming support and participation, the revised budget does not include the community demands. Join us to tell members and the city manager to listen to the community!
Demands:
1) City of Phx to create a legal defense fund for immigrants pushed to ICE custody by Phoenix PD.
Context: Phoenix PD has been separating our families through criminalization and partnership with ICE and MCSO.
2) A compensation fund for the communities impacted by police violence. For resources to go to counseling, trauma support, therapy needed after incidents of police violence. Context: Phoenix PD is one of the deadliest police departments in the nation. In 2016 they killed 18 people, one less than LA, a city double our size.
Thank you!
---------
Todos los años, el concilio vota por un presupuesto. Este año, hubi mucha participación de la comunidad, especialmente personas de color y aliados. Las personas salieron temprano del trabajo, coordinaron el cuidado de los niños, tocaron puertas y rompieron los temores de participar en el proceso presupuestario para hacer oír sus voces a favor de las demandas de la comunidad para abordar la violencia policial y la colaboración policial / ICE.
Sin embargo, a pesar del apoyo y la gran participación, el presupuesto revisado no incluye las demandas de la comunidad. ¡Únase a nosotros para decirles a los miembros y al administrador de la ciudad que escuchen a la comunidad!
Demandas:
1) City of Phx para crear un fondo de defensa legal para los inmigrantes presionados por la policía de Phoenix ante la custodia de ICE.
Contexto: Phoenix PD ha estado separando a nuestras familias a través de la criminalización y la asociación con ICE y MCSO.
2) Un fondo de compensación para las comunidades afectadas por la violencia policial. Para que los recursos se destinen a asesoramiento, apoyo de trauma, terapia necesaria después de incidentes de violencia policial. Contexto: Phoenix PD es uno de los departamentos de policía más mortíferos de la nación. En 2016 mataron a 18 personas, una menos que Los Angeles, una ciudad que duplica nuestro tamaño.
¡Gracias!