To:

United States Citizenship and Immigration Services (USCIS)
Allow Javier To Leave Sanctuary & Be With His Family; Approve his U-Visa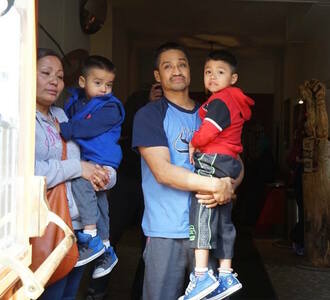 In March of 2004 Javier Flores Garcia was the victim of a horrific crime when two men mistook him for somebody else. They proceeded to stab him multiple times and left him for dead. After his miraculous recovery he aided local police in the resulting investigation which led to the capture of the men who attacked him. This unfortunate incident made Javier eligible for what is known as a U-Visa, a type of immigration relief for immigrants who are victims of crimes in the U.S. and collaborate with police.
Unfortunately USCIS refuses to approve his U-Visa and it has been pending for close to two years now.
Javier is a forty year old husband and father of 3 U.S. citizen children. He has been living and working in the U.S. since 1997 where he has raised his family. He has been in sanctuary at Arch St. United Methodist Church in Philadelphia since November of 2016 due to a deportation order even though his case is pending. We are urging USCIS to approve his U-Visa immediately so he can be with his family and leave the confines of the church.
Why is this important?
Javier deserves to be with his family and not be in they don't deserve to be in this state of limbo that they have been in for years. Javier is a good father who's main goal has always been to be with his family and take care of his children.
USCIS has already considered Javier eligible for a U-visa but have not moved the case forward, citing his reentries for reason why. Every time Javier has crossed the border it has been to be reunited with his family, with his children.
His family has struggled with severe psychological and financial hardship. His oldest daughter, Adamaris, is suffering from the trauma of having her father detained first by ICE and now of not having her father home with her while he is in sanctuary. His son, Javier Jr., has been diagnosed with Post Traumatic Stress Disorder (PTSD) and now refuses to leave his father's side for fear of losing him again, therefore living with him in the church. We must ensure that our families are kept together, not torn apart.
The approval of his U-Visa is the only way for him to truly be free and to be able to be with his family without the fear of being deported. Please send a message to USCIS by signing this petition to show support for Javier's pending case.