To:

General Public
Say No to ICE! Boycott Motel 6 for working with immigration agents!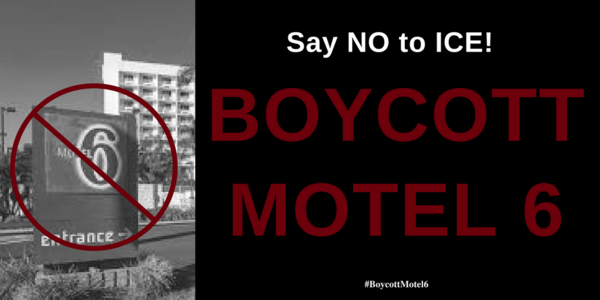 According to an investigative report published Wednesday by the Phoenix New Times. ICE agents have arrested at least 20 people who were staying at two Motel 6 locations in Phoenix, Arizona due to employees at Motel 6 locations in Phoenix working with U.S. Immigrations and Customs Enforcement agents.
"We send a report every morning to ICE — all the names of everybody that comes in," an unidentified front-desk clerk explained to the New Times. "Every morning at about 5 o'clock, we do the audit and we push a button and it sends it to ICE."
We must stand against companies that seek to harm our communities. We must boycott Motel 6 until their national headquarters publicly provides assurances that none of their our locations will be collaborating with ICE. #BoycottMotel6
Why is this important?