To:

The Philadelphia Eagles
Ask the Philadelphia Eagles to #BoycottTheWhiteHouse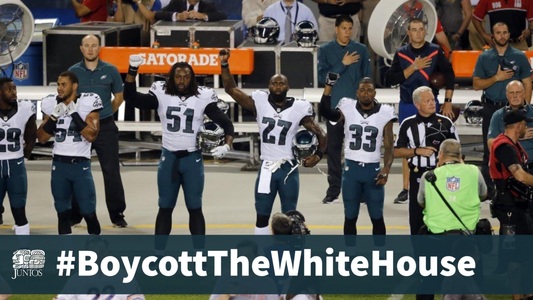 Ask the Philadelphia Eagles to boycott the traditional SuperBowl White House visit and take a stand against white supremacy
Why is this important?
We could not be prouder of our Eagles for bringing home the Super Bowl Championship to Philly this year. We stand with every Philadelphian when we say we are overwhelmed to be from Philly today. As we prepare to celebrate we would like to ask our Eagles team to stand with Philadelphia by declining as a team any invite from Trump and boycotting the White House.
Stand in unity with the thousands of immigrants in Philadelphia who love you and the millions more across the country who have been criminalized by this president. Stand with the overwhelming number of Philadelphia residents that have been incarcerated, detained, been put on probation or held down by an unjust criminal justice system. Stand with our brothers and sisters from Haiti, El Salvador and other Black and Brown nations who have been insulted by this president time and time again. And make a statement against police brutality by taking a metaphorical knee by not going to the White House.
President Trump and Jeff Sessions have targeted Philadelphia since they entered into office for our Sanctuary City status, deportations have risen by over 30% in our city and thousands of men and women are reeling from a criminal system that profits off of their incarceration. Show them that you stand with Philly by refusing the invitation to the White House.
#BoycottTheWhiteHouse #Not1More #FreeMeek