To:

John Tsoukaris, Newark ICE field office director
You Can Get This Dad Out of ICE Detention and Bring Him Home for the Holidays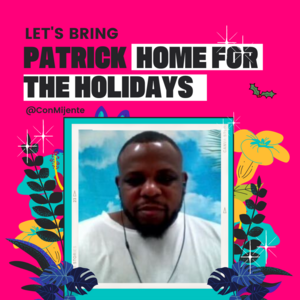 We are demanding the immediate release of Patrick Julney (last four digits of A# 6163) to his U.S. citizen wife and children in New Jersey.
Why is this important?
Patrick, a 37-year old Black Muslim Haitian man, has faced retaliation from ICE for speaking out against his prolonged detention and systemic abuse at Bergen County Jail.
DHS's Office for Civil Rights and Civil Liberties (CRCL) is investigating Patrick's allegations, but ICE continues to imprison him at LaSalle Processing Center while his family suffers without him.
•Patrick is the only father figure in the lives of his three children. They live with the constant pain of his absence and fear that their father may be sent to Haiti, where his life would be in danger.
•Patrick's wife, Laura, has been working tirelessly to support the family. Patrick would love nothing more than to come home so he can give her a break from all the long hours, and help her provide the best life possible for their children. He even has a job offer lined up upon release.
Please help bring Patrick home for the holidays -- and for good! Sign the petition and spread the word. Every single voice counts.
COMMUNITY PRESSURE WORKS
ICE already tried to deport Patrick. Twice. Community pressure led them to ground the plane that was supposed to take him to Haiti. Twice. Now, we need to get Patrick home to ensure that ICE doesn't deport Patrick, and that the systemic abuse perpetrated by ICE and BCJ are properly investigated. ICE must release Patrick immediately.
How it will be delivered
Each of these messages will be e-mailed directly to John Tsoukaris, Newark ICE field officer.
Please take one minute to add your name and share this message. It could mean everything for Patrick and his family.