To:

Latinx Therapists
Calling All Latinx Therapists Into Action to Abolish ICE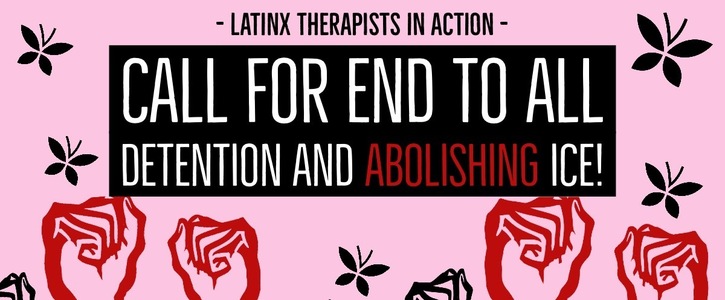 As mental health professionals, we call for the abolishment of Immigration Customs Enforcement (ICE) all together. This agency that has existed since 2003, has dedicated itself to terrorizing communities by criminalizing, detaining, and deporting millions. We call for the end of this suffering that has now become a generational issue. We call for an end of police and ICE collaboration. We call for an end to the brutal practice of the current mandatory detention system that is an extension of the cruel and racist prison system. We do this not only for children and parents but also for all migrant peoples.
We commit to honoring and protecting the humanity of our community. We declare a future in which our lives and all life is supported and nurtured. Healing is a political act and is deeply intertwined with political action. We are committed to strengthening the movement by focusing on serving immigrant rights leaders, organizers and the migrant people they work closely with. We are committed to providing low cost culturally grounded care. We honor the cultural practices that have enabled our communities to interrupt trauma, overcome oppression, and build resiliency for generations.
We call into action all those Latinx therapists who feel the urgency of this moment to join us!
SIGN THIS STATEMENT AND FILL OUT THIS FORM:
https://docs.google.com/forms/d/e/1FAIpQLSewX99IruyCP11ueDNeNqswmaOHFRkGHLubpXQmZTL9DLm1zw/viewform
Why is this important?
For the past two months our Latinx migrant community has experienced tremendous amounts of physical and emotional trauma. Thousands of migrants have arrived at the U.S. border after traveling through several countries to ask for asylum, only to be denied entry. They find themselves in despair and limbo, overwhelmed by the thought of the long treacherous journey back home. For the thousands who have been able to enter, they have been captured and imprisoned. Unjustly criminalized, they face charges that will forever impact their ability to live in the U.S. free from fear and persecution. Their children have been forcibly taken from them and incarcerated in migrant prisons across the country. We have yet to understand the emotional and physical toll of this latest assault on our community.

For over twenty years, migrant adults have been mandatorily detained with countless accounts of abuse and death, including the detention of entire families (American Civil Liberties Union, 2016). This crisis, though not new, has taken a new form of brutality—to incarcerate children and youth by the thousands. For years, unaccompanied minors have been incarcerated for months at a time. Few in the U.S. are aware that a growing number of migrant youth are being locked up in detention, accused of gang affiliation.
We are deeply concerned to learn that medical staff, including mental health professionals, are being used as tools of the state to further control and oppress these children and youth (Nilsen, 2018). The Trump administration continues to fund and funnel children newly separated from their parents to Shiloh Treatment Center in Texas. Shiloh was recently sued by the Center for Constitutional and Human Rights for administering a cocktail of psychotropic medications, including antipsychotics with limited FDA approval. It has been found that these drugs have had severe effects on the bodies of the unaccompanied minors being held in these detention centers (Reuters, 2018.)

Migrant youth and children are suffering detained across the country. At the Shenandoah Valley Juvenile Detention Center in Virginia, youth as young as 14 years old say they were beaten while handcuffed and left shivering naked in solitary confinement (AP, 2018). Recent victims of the current zero-tolerance policy are showing signs of post-traumatic stress disorder. Doctors throughout the state of New York who have treated migrant children say many of them have begun to hear voices after being separated from their parents and detained. Additionally, a recent investigation showed that therapy notes of counselors working with detained children are being used in court to further criminalize and incarcerate them (Nilsen, Vox). We denounce this unethical practice by the Trump Administration. As Latinx mental health practitioners, we will not to be used as tools of oppression nor will we sit idle as our communities are caged, abused and traumatized.
The photo and video images of children crying, standing by U.S. Border Patrol Officers and their mothers as well as the audio of dozens of children screaming in tears asking desperately for their parents, has created tremendous grief and anxiety among Latinx living in this country. The levels of dehumanization and violence we are exposed to on a daily basis can cause secondary trauma at a mass collective scale. Millions of people in our communities are migrants who are undocumented. Many of us have lived in fear for years. Many of us have suffered abuse at the hands of police and ICE agents. Many of us have been in deportation proceedings or have served time inside migrant prisons. These images in the media are haunting reminders wreaking havoc on our nervous systems.
American Civil Liberties Union, D. W. (2016, February). detentionwatchnetwork.org. Retrieved from www.detentionwatchnetwork.org/sites/default/files/reports/fatal%20Neglect%20ACLU-DWN-NIJC-pdf
AP. (2018, June 21). www.cnbc.com. Retrieved from cnbc.com: www.cnbc.com/2018/06/21/young-immigrants-detained-in-virginia-center-allege-abuse.html
Nilsen, E. (n.d.). Vox. (K. w. them., Ed.) Retrieved from Vox.com: http://www.vox.com/policy-and-politics/2018/6/18/17449150/family-separation-policy-immigration-dhs.orr-health-records-undocumented-kids
Reuters. (June, 21 2018). NBC News. Retrieved from nbcnews.com: https://nbcnews.com/health/kids/u-s-centers-force-migrant-children-take-drugs-lawsuit-n885386