To:

Congreso Board of Directors
Congreso CEO, Carolina Cabrera-DiGiorgio Must Resign #FueraCongresoCEO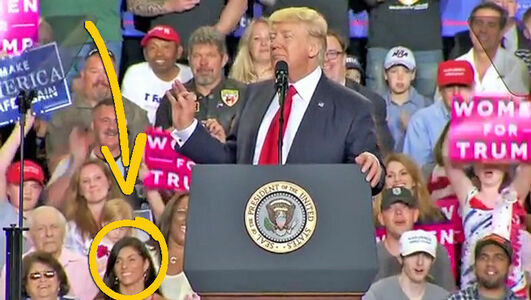 Español abajo...
Congreso is the largest Latino serving institution in Philadelphia with a stated mission to"strengthen Latino communities through social, economic, education and health services, leadership development and advocacy." Yet it was reported that last month their new CEO, Carolina Cabrera-DiGiorgio sat front row and center at a Trump rally in Harrisburg commemorating his first 100 days in office. As Trump is chanting "Build the Wall" she is seen nodding her head and as he continues to criminalize Latinos, immigrants and all communities of color, she is seen clapping in the background. Many of us in Philadelphia are heartbroken and disappointed.
It is the duty of the board of directors of any nonprofit to hold it's leadership accountable and to ensure the fulfillment of its mission. We the undersigned do not have faith that Congreso's CEO, Carolina Cabrera DiGiorgio, is able to adequately enforce this mission or to lead one of the nation's largest Latino organizations given her affiliation with President Donald Trump and his racist attacks on our community.
We ask that Congreso's Board of Directors listen to the community it says it serves and ask for Carolina's resignation immediately.
*******************************************************
Congreso es la institución latina más grande de Filadelfia con la misión declarada de "fortalecer las comunidades latinas a través de servicios sociales, económicos, educación, salud, desarrollo de liderazgo y promoción". Sin embargo, se informó que el mes pasado su nueva directora, Carolina Cabrera-DiGiorgio asistio en primera fila al evento publico de Trump en Harrisburg conmemorando sus primeros 100 días en el cargo. Se le observa a la directora asentando con la cabeza al mismo tiempo que Trump esta gritando que "Se construya el Muro", y ella continua aplaudiendo en el fondo mientras el sigue criminalizando a latinos, inmigrantes y a todas las comunidades de color. Muchos de nosotros en Filadelfia estámos desconsolados y muy decepcionados.

El deber de la mesa directiva de cualquier organización sin fines de lucro es asegurarse que cumpla su mission y hacer reponsables a los lideres de sus aciones. Nosotros, los firmantes de esta carta, no creemos ni tenemos fe en que la Directora Ejecutiva de Congreso, Carolina Cabrera DiGiorgio, pueda cumplir adecuadamente esta misión o liderar una de las organizaciones latinas más grandes de la nación dada su afiliación con el presidente Donald Trump y sus ataques racistas encontra nuestra comunidad.

Pedimos que la Mesa Directiva de Congreso escuche a la comunidad que dice servir y que pida la renuncia de Carolina inmediatamente.
Why is this important?
Our call for Ms. Cabrera-DiGiorgio resignation is beyond her political affiliation, this is much bigger than party lines. This is an issue of morality. It does not inspire confidence in us as a community to have the leader of Philadelphia's largest Latino organization support and clap for a man that has engaged in an all out attack against the community she is meant to work for. We need leaders who will stand up against these attacks, who will stand with our families in these hard times and defend ALL OF US.
*******************************************************
Nuestra petición de renuncia de la Sra. Cabrera-Digriogadno está más allá de su afiliación política. Esto es mucho más grande. Esta es una cuestión de moralidad. A nosotros como comunidad no nos inspira confianza tener a la líder de la organización latina más grande de Filadelfia apoyar y aplaudir a un hombre que ha liderado un ataque masivo encontra de la comunidad para cual se supone ella trabaja. Necesitamos líderes que se opongan a estos ataques, que están de lado de nuestras familias en estos tiempos difíciles y sobre todo que defiendan a TODOSNOSOTROS EN LOS EEUU.