To:

ICE Phoenix Acting Director Albert Carter and District Attorney John Leonardo
Eloy: Release Sexual Assault Survivor from Solitary, Investigate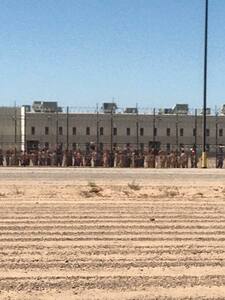 Eloy Detention Center is refusing three detainee's right to investigation into their complaints of sexual assault by guards.
Why is this important?
Eloy Detention Center is refusing detainees the investigation of the sexual assault cases of three detainees: Samuel Magallanes-Rodriquez (A#079-789-297), Octavio Aguilar (A#079-654-111), and Leonardo Rodriquez Gonzalez (A#208-577-846). When submitted, complainant Octavio was placed in solitary confinement. Octavio is on his 9th day of a hunger strike. When Samuel submitted his complaint, Eloy CCA didn't allow the Eloy police department to investigate and interview witness inside. Leo was stripped down in front of a crowd, humiliated, and fondled.
The common practice at the Eloy Detention Center following a complaint of sexual abuse is to place the complainant in administrative segregation (effectively, solitary confinement). We wish to emphasize the obvious chilling effect of this practice, as detainees are likely to refuse to report abuse for fear that it will result in segregation. Whatever the motive behind such segregation, its punitive, retaliatory effect is obvious.
Immigration detainees are entitled to protections under the Prison Rape Elimination Act of 2003 (PREA) and ICE's own guidelines outlined in the 2011 Operation Manual of ICE Detention Standards. Not only is Eloy refusing victim's right to investigation, victim's are being punished for reporting sexual assault through administrative segregation.
ICE Phoenix Acting Director Albert Carter and District Attorney John Leonardo, you have the power to assure that Eloy Detention Center is in compliance with PREA guidelines and ICE's own guidelines, as set forth through the Operations Manual.
We demand an end to administrative segregation as a retaliatory tactic when a victim makes a complaint. We demand the staff involved with Octavio, Samuel, and Leo's cases be removed from contact with detainees. We demand Eloy CCA immediately allow Eloy PD to fully investigate Samuel's case.
Please sign to support Octavio, Samuel, and Leo!