To:

All people of conscience
Healers Rise Up!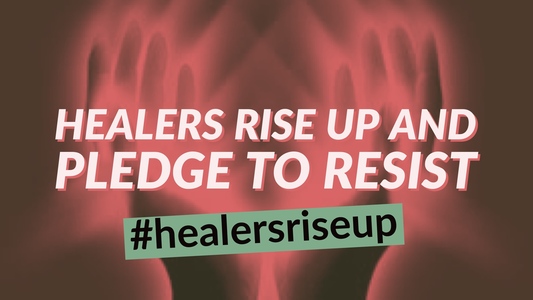 A group of us have gotten together to call into action all those for whom resistance is and has always been a spiritual truth and practice. Will you make the pledge too? #Healersriseup
Created by: Adaku Utah, Belia Mayeno Saavedra, Francisa Porchas, Mark-Anthony Johnson, Mariella Saba, Mayda del Valle, Patrisse Cullors, Prentis Hemphill.
Why is this important?
We continue to experience and witness massive coordinated assaults on our dignity, livelihood and wellbeing. This current regime has revealed and escalated its plan to divide, disenfranchise, incarcerate, repatriate, and blatantly, brutally destroy our communities and mother earth. On a daily basis, we are facing hateful violent rhetoric and actions that attempt to strip us of our humanity. These assaults are political, physical, mental, emotional, intentional, and deeply familiar. These assaults are spiritual.
Our ancestral lineages have survived centuries of attempted confinement, erasure, and redefinition. We are their continued presence. Our very existence in body, culture, complex identity, and transformation is proof of our continued resistance.
We are the legacy of freedom fighters that have shaped and guided our journey to liberation through justice, even in the midst of destruction. We walk in the footsteps of Bwa Kayiman, the Lakota Ghost Dancers, Thích Quảng Đức, Southern Root workers, and all those who have taken up spiritual arms honoring and defending our lives and communities. The triumphs of our resistance are rooted in the spirits and practices that remind us of our sacred humanity, our interconnected strengths and powers that sustain our well being as a whole.
We are worthy. We are powerful. We defend our right to exist.
We call into action all those who feel the urgency of this moment to spiritually empower and awaken the healers, artists, and freedom fighters in all of us.
We honor and call in all of our roles in abolishing all supremacist ideologies.
We call each other to create social and healing justice with our gifts, our magic, our medicines, our knowledge, our prayers, our healing, and our rituals and practices.
We call into action all those for whom resistance is and has always been a spiritual truth and practice.
We commit to honoring and protecting the humanity and dignity of communities most marginalized by systemic attacks of violence, including: Black, Indigenous, and People of Color, (Im)migrants, Muslims, Refugees, Disabled People, Sex Workers, LGBTQIA people and those who have been and are currently incarcerated.
We declare a future where all life is supported and nurtured.
We declare freedom for our whole being, our families, our communities and the mother earth.
For the fight ahead, we need all of our magic and all of our spiritual and ancestral wisdom to guide us, protect us, and sustain us.
We are called to participate in this spiritual resistance and call on you to join starting with:

• Signing on to this pledge as your commitment to show up for each other and for our communities with your magic, healing practices, and ancestral knowledge.
• Joining us in a conference call to discuss how these actions are being integrated into the broader movement. How is this part of a continuum, what has been successful in the past, what are current practices and how do we integrate our actions into our individual and collective practices.
• Joining us on future efforts on coordinated days of spiritual action, where we will publicly call on our ancestors and the power of Spirit to fortify us in the days to come starting with Black Lives Matter National Day Radical Sacred Rituals of Resistance April 1st.
• Creating actions, collectively or individually, that transmit power, protection and dignity to our communities.
#healersriseup #sacredresistance