To:

Field Office Director, Chris Cronen; Assistant Field Office Director, Todd Thurlow; Acting Assistant Field Office Director, Yolanda Marfissi; Senator Richard Blumenthal; Senator Chris Murphy and Representative Rosa DeLauro
Help us keep Nelson Pinos home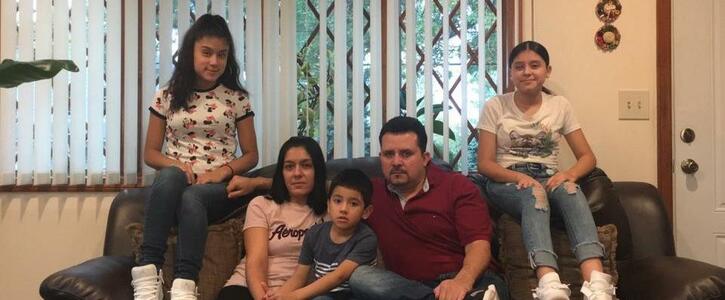 The community of the city of New Haven, the state of Connecticut, and others around the country, are requesting the following:
-That Immigration and Customs Enforcement exercises their discretion and allow Mr. Pinos remain at home with his family, friends and community.
-That the elected officials mentioned above provide their unconditional support for Mr. Pinos
Why is this important?
Nelson Pinos Gonzalez is a father of three; resident of New Haven, CT, who has lived in the United States since 1993. On October 4th during a check-in, Nelson was asked to come back with a one-way ticket to Ecuador dated November 30th.
On November 6th, Nelson presented his ticket accompanied by over a dozen community members at the Abraham A. Ribicoff Federal Building in Hartford.
Nelson lives with his long-time partner and his three children are U.S. citizens ages 15, 12 and 5. He is the only provider for his family. He has worked for the same company for the last 15 years. Unfortunately, just recently he was asked to not come to his work until his legal situation is fixed.
His oldest daughter Kelly, a sophomore at Wilbur Cross High School said on November 6th, "We also need a father's view on life. It can't just be a mother. I love my father with all my heart. I have a 5-year-old brother who has no idea what is going on. My brother still has so many years to grow up with my dad. ... I beg immigration to let him stay ... He has never done anything wrong," Kelly said. "His home is here with us."
Nelson and his family are members of the St. Anthony's Church, as well as Unidad Latina en Acción. Since they became involved, they have committed to supporting other people in similar situations as well as participating in cultural activities throughout the city.
Nelson has become the most recent case in which the current administration threats to tear apart immigrant families in an arbitrary and malicious manner. His case resonates with the case of Luis Barrios, Nury Chavarria, Marco Reyes and the Ramos family: all of which threatened to separate children from their parents – as well as Sujitno Sajuti, and elder immigrant from West Hartford.
Please sign this petition, and join us as we denounce the injustices of this administration against immigrant families!