To:

Immigration and Customs Enforcement (ICE)
ICE is Deporting My Mother, Who is Recovering From Stage-4 Cancer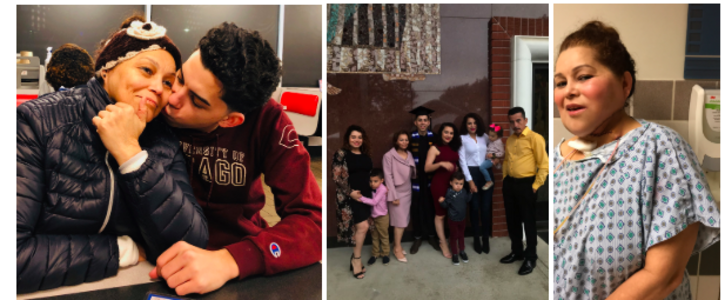 My name is Cristian Padilla Romero, and my heart breaks to write this letter. I need your urgent help to stop my mother's deportation to Honduras. My mother is Tania Romero and she is a stage-4 cancer survivor. She has been detained under horrific conditions for over two months at Irwin County Detention Center, a private detention facility run by Lasalle Corrections in South Georgia, and she is scheduled to be deported any day now.
Why is this important?
My mom made it possible for me, an undocumented immigrant like herself, to attend and graduate from Pomona College in 2018, and to be accepted into Yale University's prestigious History Ph.D. program. I am now on track to completing my PhD program at one of the nation's top universities. But I can hardly study or think, knowing how much she is suffering. My mother also raised three phenomenal daughters, all of whom proudly work in the construction industry. My sisters, Saira, Driana, and Driany are also mothers, and their five beautiful children miss their doting "abuela" (grandmother) terribly.
My mother is the bedrock of our family and community. An immigrant from rural Honduras, my mom has worked her whole life as a housekeeper, restaurant dishwasher, and construction worker so that my three siblings and I could have a better life than the one she lived back in Honduras, where she suffered from malnutrition, poverty, and very poor healthcare. Honduras lacks the proper facilities to treat my mother's form of cancer, and has a severe shortage of treatment options for cancer survivors. She is profoundly religious and spiritual, and her Christian beliefs have led her to support others in the immigrant community. When she was diagnosed with cancer, she did not give up. In fact, her spirituality helped her survive, and she then built up the spirits of others struggling with cancer.
Now she needs our community's help.
My mother is strong, but she still needs adequate medical treatment and tolerable living conditions. The detention center has deprived her of regular medical follow-ups, and post-radiation and post-chemotherapy care. Detention doctors informed our mom that she now has a serious Vitamin B12 deficiency. We fear that her physical health is declining at an alarming rate. And if she is deported to Honduras, my mother would certainly face a decline in health, if not death.
We urge ICE to be humane and release my mother to fight her case outside of detention and so she can fully recover from a long battle against cancer. We ask people to sign this petition. #ReleaseTaniaNow #LibertadParaTania
Call ICE Director [Supervisory Detention and Deportation Officer, Immigration and Customs Enforcement Atlanta Field Office, Cesar Ciprian ([email protected]) Tel. (404) 893-1214]
Here is a sample script:
Hello, my name is _________, and I am calling to urge you to save the life of Tania Romero, A# 095-087-219, detained in Irwin County Detention Center, by releasing her to receive the medical treatment needed to heal from stage-4 cancer at home with her family. I believe she will abide by all the court dates and procedures. She deserves to process her case outside of detention in restorative conditions and among loving family and grandchildren.
(Leave your name and zip code).
You can also donate to our GOFUND.ME Page: https://bit.ly/2ouaazl
For our press statement, see this link: https://bit.ly/2JtLgH5
Please share and repost this message to support our family. Thank you.
Update: Checkout coverage by Spanish media, Univision Atlanta on my mother's story. https://bit.ly/2PvWNKa
For media inquiries, please contact [email protected]