To:

Department of Homeland Security (DHS) and Immigration and Custom Enforcement (ICE)
Justice For Mele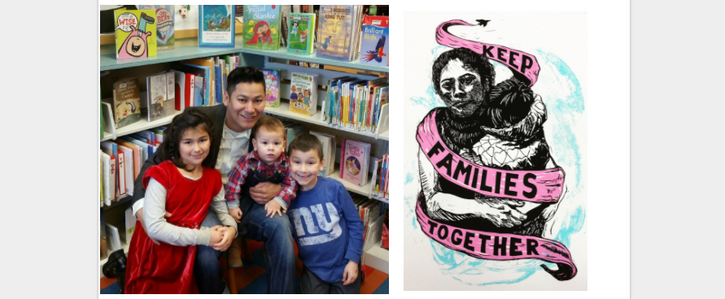 We the undersigned call on the Department of Homeland Security (DHS) and Immigration and Custom Enforcement (ICE) to stop the deportation of Melesio Morales Mata and allow him to remain in the U.S. with his wife and 3 children.
Why is this important?
Undocumented loved one and father of three young children Melesio Morales Mata was detained by ICE this morning after his lawyer presented a stay of removal at the monthly check-in. ICE demands that Melesio continue to fight for a stay of removal from within the for profit prison the Northwest Detention Center. Melesio received a letter to appear earlier this year and after showing up to his scheduled appointment with community support ICE decided to put him under a monitor program by having him wear an ankle bracelet. This program is run by a private subsidiary of Geo Group the Intensive Supervision of Appearance Program (ISAP). For his second check-in this month ICE decided to put Melesio in detention, concurrent is Geo's existential need to continue profiting off of detention. Geo makes $.85 per dollar ICE spends to keep a person detained as net profit and ICE ensures this profits continues with federal contracts that include minimum bed quotas.
As the latest report by Detention Watch Network exposes, "the drastic expansion of mandatory detention combined with a skyrocketing detention budget has created a sprawling and unaccountable system of mass detention. As a result, the number of individuals detained has grown dramatically. The average daily population of detained immigrants increased from approximately 5,000 in 1994, to 19,000 in 2001, and to over 39,000 in 2017. After three decades of expansion, the detention system now captures and holds as many as 400,000 immigrants each year."... And all those people could be facing immigration cases amongst their families and community instead of detention.
Melesio's partner Monica had this to say, " When we first went into our appointment, the officer told Melesio, 'we'll give you until June so that you can stay with your children until they finish school', but they did not keeping their word, and that just interrupted our lives because I really thought we had until June. Yesterday detaining him was a big shock. And I guess what I'm trying to say is that they don't care. They don't have to keep their word. And now it hits me hard because he's the sole provider for our family. How long is he going to be gone? How am I gonna pay the bills for this month or next month? And what if his stay is not granted and he is deported back to Mexico? It worries me because you know I read the news about what happens inside the detention center, hunger strikes, the officers not treating people with any respect. That just makes me wonder... What is happening in there? Is he going to be given the treatment he needs and the respect he deserves? I just want him home."