To:

ICE Field Office Director – Atlanta, Sean Gallagher
LET ENMA STAY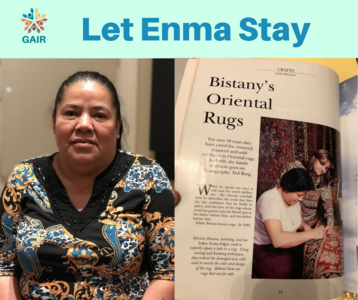 Call or email Sean Gallagher and tell him you know you want Enma Folgar's case REOPENED. Enma has suffered enough and she is not a threat to anyone.
Sean Gallagher
Director, ICE Atlanta Field Office
180 Ted Turner Dr. SW Suite 522
Atlanta, GA, 30303
Phone: (404) 893-1210
Email: [email protected]
Why is this important?
THIS IS URGENT! ICE IS NOT FOCUSING ON DANGEROUS CRIMINALS like they say. Instead, they are deporting people who have been showing up for annual check in appointments.
Enma, originally from Guatemala, came to the United States 25 years ago seeking asylum, but her application was denied. While she waited for a decision, ICE gave her a working permit. After her asylum request was denied, she continued to receive a Stay of Deportation every year. For 25 years, she has been reporting to ICE and renewing her work permit; every year. This year, after reporting for her yearly check-in, Enma was told she would have to leave. She is set to leave on Friday, March 30th, 2018.
Enma was denied a hearing before a judge and was coerced into signing a voluntary deportation to avoid going to a detention center with her U.S. born adopted granddaughter after being told she would have to take her with her to Guatemala.
In the 25 years she has lived in the United States Enma has never had contact with the police. In addition to her adopted daughter, Enma has two daughters. Her oldest daughter, Evelyn, was diagnosed with liver disease and needed a liver transplant. She was told that due to her undocumented status, she could not get on the list for transplant recipients even if a donor came forward to donate for her specifically. Seeing no hope, Evelyn became despondent, fell into depression and committed suicide at the age of 25, leaving behind a 7-year-old daughter with special needs. Enma adopted Evelyn's daughter, and she is now her sole provider. Enma also plays a significant financial and emotional supporting role for her second daughter who is a DACA recipient, married to a U.S. Citizen, and mother to three young children. If Congress fails to act on behalf of all DACA recipients, she too, will be vulnerable to deportation. Her only option is to try to raise funds to pay for the costly application to adjust status, money she and her husband do not have.
Enma practices a unique and rare high-skill trade. She is the only person in South Carolina that can do this work. She does antique rug repair, restoration and maintenance work for Bistany's Oriental Rugs in Columbia. According to her employer, Sylvana Hanna: "Enma is the lifeline of the business, and if she is deported, there will be no one left to train others." Without Enma, Bistany's Oriental Rugs, a highly respected and trusted business in the State, and a generational legacy, will most likely shut down, leaving many unemployed.
Enma's only mistake was to come to the United States seeking asylum. She has suffered enough. Let Enma stay, she is not a threat to anyone.