To:

Field Office Director, Chris Cronen; Assistant Field Office Director, Todd Thurlow; Acting Assistant Field Office Director, Yolanda Marfissi
Let Sajuti Stay!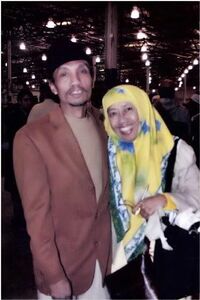 Please sign to compel federal immigration authorities to let Sujitno Sajuti, a 68-year-old Indonesian gentelman from West Hartford, remain home! Immigration & Customs Enforcement (ICE) wants Sujitno to depart the United States on October 10.
Sujitno came to the United States in 1981 as a Fulbright Scholar. Around 2002-2003, Sujitno complied with a post-9/11 special registration program that targeted men from Muslim majority nations. His submission to this drachonian database brought Sujitno to ICE's focus. On December 10, 2011, ICE captured Sujutino as he was leaving home to teach a religious studies class. He spent 67 days detained in Eastern Massachusetts, before extensive community intervention compelled his freedom from incarceration. After receiving Stays of Removal for years, ICE, emboldened under a federal administration based on white supremacy and black/brown genocide, ordered Sujitno to depart the United States by October 10.
We will not remain silent while ICE tries to take away another one of our own! A tireless scholar, holding advanced degrees from UConn and Columbia University, and advocate, Sujitno is well-known and admired for his social justice activism, as well as his deep community engagement. Always seeking to support future generations, Sujitno teaches Koranic studies and Indonesian language classes, while tutoring young students in mathematics, GED exam preparation, and other subjects.
Your support is important to show ICE that when our communities our under attack, we get live and fight back!
Why is this important?
We must acknowledge that the deportation machinery signifies but one component of a system based on white supremacy and genocide against black and brown people. Death, detention, and deportation represent primary forms of state violence against the people. Sujitno has been a victim of institutionalized bigotry against Muslims, as well as historic racism against black and brown people. We must clearly target and address these issues if we truly want to cultivate a just and peaceable community.