To:

MNPS superintendent Dr. Adrienne Battle and the MNPS School Board
Metro Nashville Public Schools: STOP Wage Theft!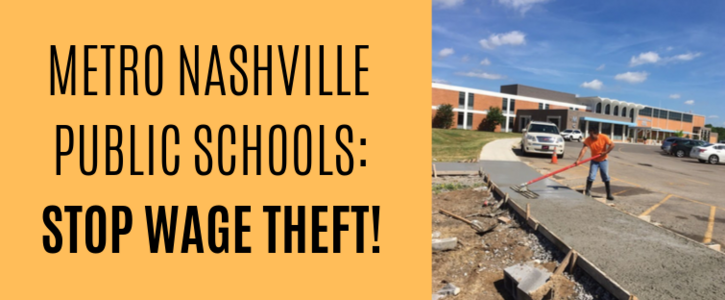 We the undersigned request that Metro Nashville Public Schools ensure full and immediate payment of all crews who worked on the renovations at McMurray Middle School.
Why is this important?
Between August 2018 and May 2019, Armando Arzate and his fellow workers at RSA Concrete put long hours of skilled labor into McMurray Middle School's renovation, pouring concrete for new sidewalks, ramps, and other projects. Metro Nashville Public Schools contracted with Orion Building Corporation, their frequent construction partner, to oversee the project. Orion Building Corporation then subcontracted with Joe Haas Construction Company for cement work, and Joe Haas Construction hired Armando and his team (RSA Concrete). Despite having finished the job in May of 2019, Armando and his team are still seeking $43,000 they say they are owed for their work.
Armando and the other workers, with the support of community members, MNPS parents, and Vanderbilt Divinity School students, have repeatedly requested that Joe Haas Construction and Orion Building Corporation do the morally right thing.
This is not the first time that Orion's subcontractor Joe Haas Construction has shafted workers. In July and August of this year, Armando and his team negotiated with Orion for $66,000 in unpaid work they performed at Vanderbilt University's Divinity School. It became clear to all parties that Joe Haas was not paying the workers, and worse, that Joe Haas Construction did not use basic standards of entering into written contracts with their subcontractor. Finally, at the urging of the Vanderbilt University community, Orion paid the workers the full $66,000. We feel that this payment represents Orion's acknowledgment of their responsibility for the mess they caused by their decision to contract with an unscrupulous subcontractor.
But we still have a mess. Armando and his team are still seeking $43,000 for their work at McMurray Middle School. Representatives of Joe Haas have demonstrated to be dishonest and irresponsible. Why won't Orion step up and take moral responsibility, even if they profited while some workers were not paid?
Metro Nashville Public Schools needs to step in.
We ask that MNPS superintendent Dr. Adrienne Battle and the MNPS School Board ensure that our children's learning environments are built justly and fairly. We must set an example for our children. We ask that MNPS:
1) Make sure all construction workers and subcontractors on MNPS projects be fully paid for their labor
2) Hold general contractor Orion Building Corporation morally responsible for all laborers on their projects with MNPS.
3) Only enter into contracts with general contractors that use Surety Bonds or similar mechanisms that guarantee that everyone who works to improve our schools are fully paid. This should never have happened, and can be avoided in the future with this simple action.