To:

Curt Hendrickson, Magnum Fine Home Builders
Pay Sergio What You Owe / Páguele a Sergio lo que le debe

Siembra NC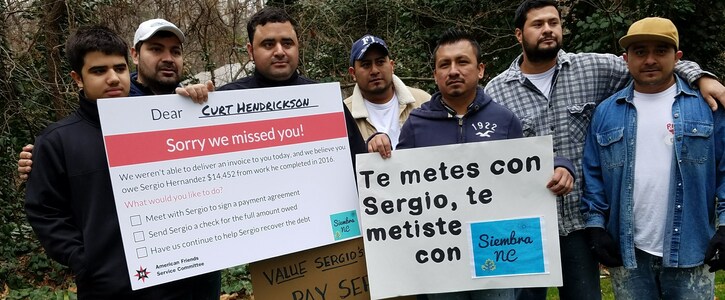 Pay Sergio Hernandez the $14,456 he says is owed after completing painting and drywall work for Magnum Fine Home Builders in 2016. // Pague a Sergio Hernández los $ 14,456 que dice que se le deben después de completar el trabajo de pintura y paneles de yeso para Magnum Fine Home Builders en 2016.
Why is this important?
Sergio has invoices, photos, emails and text messages with Curt from Magnum Fine Homes that show he and his co-workers painted at least three homes for them in 2016, and he says he still hasn't been paid. We won't let employers in our community treat immigrant workers this way. // Sergio tiene facturas, fotos, correos electrónicos y mensajes de texto con Curt de Magnum Fine Homes que muestran que él y sus compañeros de trabajo les pintaron al menos tres casas en 2016, y él dice que todavía no le han pagado. No permitiremos que los empleadores de nuestra comunidad traten a los trabajadores inmigrantes de esta manera.