To:

Chicago ICE Field Office
Release Gualberto! day laborer detained during raid in Chicago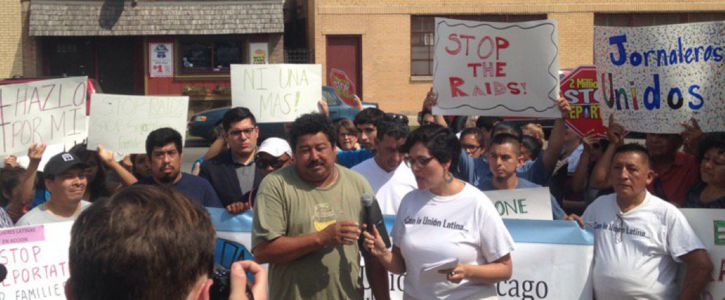 Gualberto Olac is a day laborer who resides in Chicago and has been in the U.S. since he was sixteen. On August 5th, 2016 ICE conducted a raid at the corner where he and other men wait for work on a daily basis. ICE detained three men, including Gualberto, after racially profiling and illegally searching the men who were waiting for work. The Department of Homeland Security (DHS) is currently investigating this raid to see if there were civil rights violations committed by the ICE agents.
Gualberto has been finding work at that corner for more than two years. With his earnings he helps to support his family; including his mother who has a number of medical issues and is unable to earn her own income. He is currently in an ICE detention facility, as he awaits a resolution in his pending immigration case. This petition is to advocate for his release, and it will be presented to the court in support of his ongoing campaign.
The civil rights investigation began after Chicago-based organizations filed a formal complaint requesting an investigation regarding the actions taken by ICE in executing the arrests. During the raid, workers were intimidated and forced to use ICE's portable fingerprint units. This raid and the civil violations that occurred that day are part of the continued daily violence that day laborers face as their work and survival is criminalized. This serves as ongoing evidence that the Chicago ICE office continues to repeatedly violate people's civil rights.
Gualberto is the only day laborer who is still detained and we are demanding that he be released and have his case closed based on the circumstances of his detention. Sign below to request for Gualberto's case to be closed and have him released from detention.
Why is this important?
Gualberto is a one of the day laborers that was detained during a raid in Chicago. The raid is is yet another example of the ways our communities in Chicago are criminalized and forced to subject to invasive technologies and tactics used by police and ICE. We are organizing to release Gualberto and to demand an investigation and an end to these civil rights violations.