To:

ICE
Release Santos from NWDC!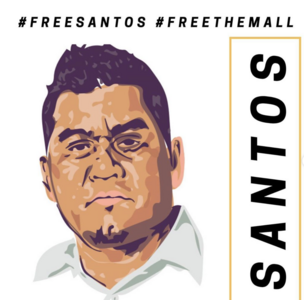 TELL ICE: Release Santos now! Santos, a husband, father, pastor and respected community member is currently being detained at NWDC where he has been since July of 2019. Santos suffers from several medical issues and chronic pain, putting him at heightened risk of COVID-19, a risk further increased in a detention-type setting such as the NWDC. We call on ICE to release Santos and reunite him with his family and community!
Cuente a ICE: ¡Libera a Santos ahora! Santos, un esposo, padre, pastor y miembro respetado de la comunidad actualmente está detenido en NWDC, donde ha estado desde julio de 2019. Santos sufre de varios problemas médicos y dolor crónico, que no han sido tratados durante este tiempo. NWDC es notorio por condiciones inhumanas y por su falta de atención médica, que no ha mejorado durante COVID-19. ¡Llamamos a ICE a liberar a Santos y reunirlo con su familia y comunidad!
Why is this important?
Since before arriving at NWDC, Santos has had several serious medical complications and chronic pain related to a past stroke that lead to Gout. These severe health conditions require careful medical attention and additional precautions such as social isolation to ensure that he does not contract COVID-19 in his compromised state. With the increasing risks due to COVID-19, Santos is now at an even higher risk of becoming more ill. His family is in deep fear for his health and is calling on our community to pressure ICE and have Santos released immediately. Santos life is put at risk every day he stays inside NWDC! Sign this petition to release Santos now!
Desde antes que llegó al NWDC, Santos ha tenido varias complicaciones médicas serias y dolor crónico relacionado con un accidente cerebrovascular pasado que produjo la gota, todos los que no han sido tratados durante su tiempo en NWDC. Estas condiciones médicas graves requieren atención médica adecuada que él no está recibiendo actualmente. Con riesgos crecientes por COVID-19, Santos actualmente tiene un riesgo aún mayor de enfermar más. Su familia tiene miedo profundo por su salud y llama a nuestra comunidad a presionar a ICE a liberar a Santos inmediatamente. ¡La vida de Santos se pone en riesgo cada día que él se queda dentro de NWDC! ¡Firme esta petición a liberar a Santos ahora!
Hear from his family: https://www.instagram.com/p/CC1-q22pQBK/?utm_source=ig_web_copy_link
Santos #FreeThemAll post: https://www.instagram.com/p/CC0_mEBJ_YW/?utm_source=ig_web_copy_link