To:

Los Angeles Police Department , LAPD Chief Charlie Beck
Free Selena and Drop the Charges!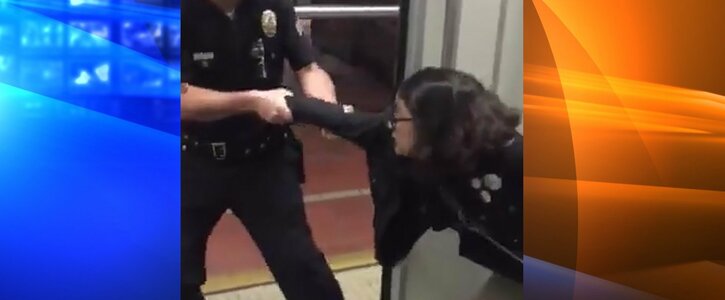 Free 22-year-old Selena Lechuga of all charges and stop criminalizing our communities.
Selena was held in jail with a $20,000 bail bond for trying to defend high school senior Bethany Nava on the Metro subway and is being charged with assault and battery for allegedly spitting on an officer. We want Selena freed of all charges immediately.
Why is this important?
Yesterday afternoon January 22nd, 18-year-old Bethany Renee Nava was violently harassed and dragged off the Metro subway by a police officer at MacArthur Park Station in Los Angeles. Police arrested her simply for having her foot on her train seat.
Selena Lechuga, a local chef and vocalist, was also arrested for trying to defend Bethany. Bethany has been released and is due in court on February 15th. She was taken to a hospital with a sprained wrist and some contusions following the incident. Selena was held in jail with a $20,000 set bail for allegedly spitting on the officer (after she was arrested) and now LAPD is charging her with "assault and battery."
While Selena has serious charges set up against her that should definitely not qualify as assault or battery, there have been no actions taken by LAPD to address the obvious abuse of power by the officer with badge #5203 in the video. Instead of de-escalating the situation and doing their job, LAPD is showing how easy it is for police to criminalize anyone, especially people of color. This is unacceptable. Sign this petition to demand they drop Selena's charges immediately and stop criminalizing our communities #FreeSelena #StopPoliceAbuse #StopLAPD
Additional note: LAPD officers clam they do "code of conduct" work on the metro regularly and have "large public support" for it. Why does @MetroLosAngeles continuously allow harassment like this to happen on their trains?
Fundraising link: You can donate to Selena's bail and legal funds here: https://www.gofundme.com/free-selena-lechuga
Watch video footage by Brock Bryan here:
https://www.youtube.com/embed/mTFW5B81X6k
----------------------------
Ayer por la tarde, 22 de enero, Bethany Renee Nava de West Hollywood, fue agresivamente hostigada y arrastrada fuera del metro por un oficial de policía en la estación de MacArthur Park en Los Ángeles. La policía la arresto simplemente por tener su pie en el asiento del tren.
Selena Lechuga, chef y vocalista local, también fue arrestada por tratar de defender a Bethany. Bethany fue liberada y tiene que ir a la corte el 15 de febrero. Fue llevada al hospital con una lesión en su muñeca y algunas contusiones después del incidente. Selena estába detenida en la cárcel con una fianza de $ 20,000 por presuntamente escupir al oficial (despues de ser arrestada) y ahora LAPD la tiene acusada de "asalto y batería."
En lugar de reducir la situación y hacer su trabajo, LAPD está demostrando lo fácil que es para la policia criminalizar a cualquiera, especialmente a personas de color. Esto es inaceptable. Firma esta petición para exigir que LAPD libere inmediatamente a Selena de cargos y deje de criminalizar a nuestras comunidades #FreeSelena #StopPoliceAbuse #StopLAPD