To:

Santa Ana City Council
Santa Ana City Council: Rescind the $25M Police Association Contract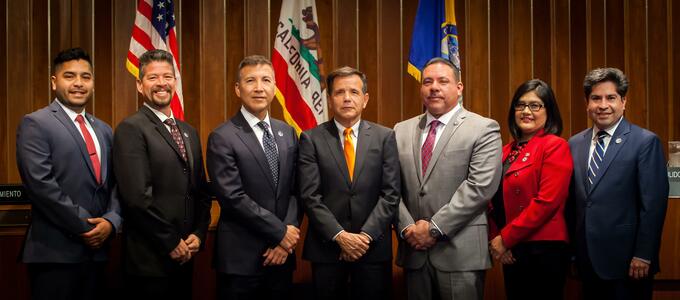 Rescind your approval of $25M MOU with the Santa Ana Police Officers Association, thereby relieving the City of its obligation to pay the increased salary and benefit packages committed to therein.
Why is this important?
On Tuesday, February 5, 2019, the Council narrowly approved a Memorandum of Understanding (MOU) agreeing to a pay increase for officers in the Santa Ana Police Department amounting to more than $25 million over the course of three years. At that meeting, council members were implored by members of the community to reject this MOU given uncertainty over Santa Ana's current financial health; however, the majority of the Council disregarded the public's input and moved forward with approving the MOU.
As justification for approving this agreement, members of the Council majority offered explanations that ranged from incomprehensible to downright untruthful. Mayor Pulido was characteristically dismissive of members of the public and his colleagues. Councilmember Sarmiento spoke many words without making a cogent point or offering an explanation for why he felt that such a generous pay increase is warranted at this time or a legitimate use of Measure X revenue. Councilmember Solorio assured residents that these raises will not leverage Measure X tax revenue, despite the fact that the Staff Report accompanying the agenda item specifically identified this revenue as a source of funding. And Councilmember Penaloza was primarily concerned with where Santa Ana Police Department salaries will fall when ranked against other municipalities after the pay increase, indicating he is comfortable with the mark of distinction for our police department being how highly officers are paid rather than how well they serve our community.
Given the lack of thoughtful discussion and public debate on this issue, residents of Santa Ana are rightfully displeased with the outcome of your decision to approve this MOU. We are also concerned that this decision was made without the benefit of an accurate understanding of our city's current fiscal situation.
The fact that the Council recently dismissed our City Manager, whose responsibility it was to provide an objective and fact-based assessment of our finances to enable the Council to make prudent and sustainable fiscal decisions, further erodes the public's confidence that this MOU was approved based on a comprehensive understanding of its short- and long-term impacts to Santa Ana's finances.
As Santa Ana's elected officials, they have an obligation to act in a manner that is aligned with the needs and values of the community they serve. Execution of the MOU to increase officer pay was not consistent with their obligations to our community, but they have an opportunity to make that right.
For the sake of Santa Ana's financial health and the well-being of its residents,they should move to restore the public's trust by rescinding the current MOU and going back to the drawing board.