To:

Representative Nancy Pelosi and Senator Chuck Schumer
Stand with Civil Rights Hero, Rep. John Lewis, and Boycott the Inauguration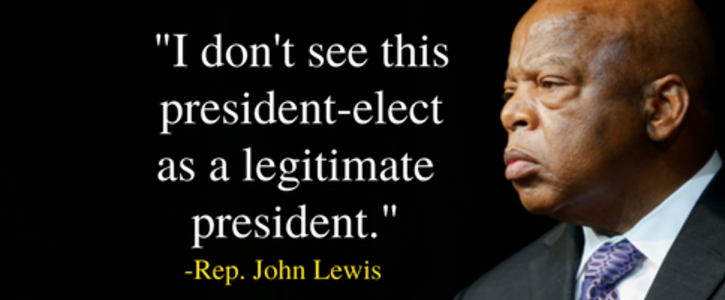 Given Donald Trump's penchant for hate speech and complete disregard for decency and civil discord, especially in light of his recent attacks on Civil Rights hero Representative John Lewis during Martin Luther King weekend, we are calling on you to stand with Representative Lewis in boycotting the inauguration of a truly illegitimate president.
Why is this important?
In a statement regarding his boycotting of Trump's Inauguration, Congressman Grijalva said that his "absence is not motivated by disrespect for the office or motivated by disrespect for the government that we have in this great democracy. But as an individual act, yes, of defiance, at the disrespect shown to millions and millions of Americans by this incoming administration and by the actions we are taking in this Congress."
And Congressman Grijalva is right- we must not legitimize or normalize Donald Trump and his hate filled agenda. Not only his Trump proven himself to be unfit for us, a cloud of illegitimacy hangs over this year's presidential election that makes us question the legitimacy of a Trump presidency.
Civil Rights Icon Representative John Lewis will also be skipping the inauguration stating that "you cannot be at home with something that you feel that is wrong, is not right."
Democratic Reps. Jared Huffman (Calif.), Katherine Clark (Mass.), Barbara Lee (Calif.) Mark DeSaulnier (Calif.), Lacy Clay (Mo.), Kurt Schrader (Ore.) and Earl Blumenauer (Ore.) also announced boycotts. Rep. Luis Gutierrez (D-Ill.), who will also be boycotting the inauguration will instead attend the anti-Trump Women's March taking place the following day.
We must urge the rest of our elected officials to stand with them.