To:

Field Office Director C.M. Cronen, Community Relations Officer Alexia Koplewski & Immigration Officer Gary Roltsch
Stop Francisco's Deportation!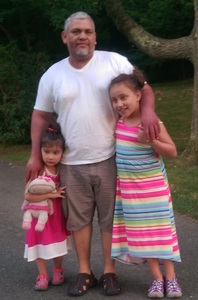 Please grant Mr. Francisco Rodriguez Guardado a Stay of Removal. Mr. Rodriguez is a father of two U.S. citizen children. He and his wife have a baby on the way, and their family are beloved members of the community of Chelsea.
Why is this important?
Mr. Rodriguez has lived in the U.S. since 2006. He has lived in the greater Boston area for 10 years, specifically in Chelsea for the last 6 years. He is the father of two American citizen children, 10-year-old Mellanie and a 5-year-old Jessica, and a baby on the way. For the past five years, he has been a janitor at MIT. In addition, he runs his own carpet cleaning company. He is a member of his children's school parent committee, of the community organization Chelsea Collaborative, of the Church Tabernaculo biblico seguidores de Jesus, and a union member of 32BJ SEIU (Service Employees International Union) at MIT. Mr. Rodriguez has no criminal record, pays his taxes, and contributes to his community, church, children's school and workplace.
When Mr. Rodriguez arrived to the country, he applied for asylum in 2007. He was denied asylum in December of 2009, and his appeal was denied in July of 2011. He was later granted prosecutorial discretion and has received a Stay of Removal every year since that time. However this past month, when Francisco applied for a Stay, it was denied. If ICE grants Mr. Rodriguez a Stay of Removal, he can continue to work, take care of his family, and contribute to our community. In addition, next year Mr. Rodriguez's mother, who is a legal permanent resident, will become a citizen. Soon afterwards, a pathway to residency will open for Francisco when his mother files a petition on his behalf.
We ask that you grant Mr. Rodriguez a Stay of Removal so that he can take care of his family, particularly his U.S. citizen young children and elderly legal permanent resident mother, while he waits for his pathway to residency and citizenship to open. For as long as Francisco remains in the United States, I am certain he will continue to be an exceptional member of our community.
//////////////////////////////////////////////////
Por favor conceda al Sr. Francisco Rodríguez Guardado Moción de Suspensión de la Deportación. Sr. Rodríguez es padre de dos niñas ciudadanas de los Estados Unidos. Él y su esposa está esperando un bebé que viene en camino. Francisco y su familia son miembros queridos por la comunidad de Chelsea.
El Sr. Rodríguez ha vivido en los Estados Unidos desde el 2006. Francisco vivió en la área de Boston durante 10 años, y durante los últimos 6 años han vivido en Chelsea. Él es padre de dos niñas ciudadanas estadounidenses, Mellanie de 10 años y Jessica de 5 años, y un bebé en camino. Durante los últimos cinco años ha sido trabajador de limpieza en la Universidad MIT. Además, dirige su propia empresa de limpieza de alfombras. Es miembro del comité de padres escolares de sus hijas, de la organización comunitaria la Colaborativa de Chelsea, de la Iglesia Tabernáculo Bíblico Seguidores de Jesús, y miembro del sindicato 32BJ SEIU (Unión Internacional de Empleados de Servicio) en el MIT. Sr. Rodríguez no tiene antecedentes penales, paga sus impuestos y contribuye a su comunidad, iglesia, escuela para niños y lugar de trabajo.
Cuando Sr. Rodríguez llegó al país, solicitó asilo en 2007. Se le negó el asilo en Diciembre de 2009 y su apelación fue denegada en Julio de 2011. Más tarde se le otorgó la discreción de la fiscalía y ha recibido una suspensión de su expulsión cada año desde ese tiempo. Sin embargo, este mes pasado, cuando Francisco solicitó una suspensión, fue negada. Si ICE concede al Sr. Rodríguez una suspensión de la expulsión, puede continuar trabajando, cuidando a su familia y contribuyendo a nuestra comunidad. Además, el próximo año la madre del señor Rodríguez, que es un residente permanente legal, se convertirá en ciudadana. Poco después, se abrirá un camino a la residencia para Francisco cuando su madre presenta una petición en su nombre.
Le pedimos que conceda al Sr. Rodríguez una suspensión para que pueda cuidar a su familia, particularmente a sus hijas ciudadanas de Estados Unidos y a su madre residente permanente, mientras espera que se abra su camino a la residencia y la ciudadanía. Mientras Francisco permanezca en los Estados Unidos, estoy seguro que seguirá siendo un miembro excepcional de nuestra comunidad.