To:

Newark ICE Field Office Director John Tsoukaris
Stop Ibrahim Momin from being #DeportedToDeath to Bangladesh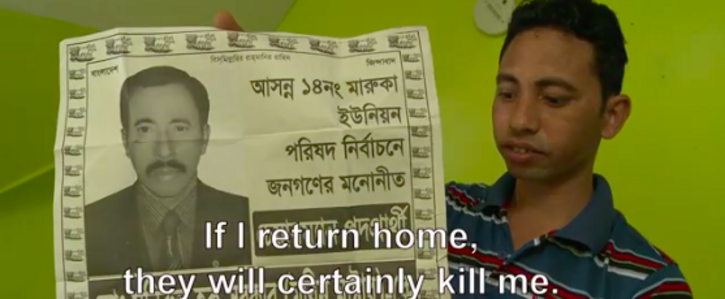 Stop Ibrahim Momin's (A# 088 440 468) deportation back to Bangladesh, where he faces imminent danger if he were deported. Ibrahim fled Bangladesh after being attacked because of his father's political activities, and later his father was killed while Ibrahim was in a detention center in Alabama. Ibrahim should be released so he can continue his efforts to seek safety here.
Why is this important?
Ibrahim Momin and his two brothers fled Bangladesh in 2009 after being brutally beaten because of his father's political activities. Ibrahim traveled to Ecuador, and traveled across land through at least seven countries for nearly a year in order to seek safety to the United States.
However, Ibrahim has faced a constant series of challenges in finding safety here. He has had encounters with the police which led to him being turned over to ICE. He has been sent to immigration detention centers in Alabama, Louisiana, and New Jersey multiple times and has served many months on the inside. He has had his asylum cases denied despite concrete evidence and documentation of the threats he faces, including the murder of his father while Ibrahim was still in detention.
While Ibrahim has not been detained, he worked in restaurants in order to support himself, support his families, and get his life on track.
Ibrahim was once again detained in on September 29th 2017 from his workplace in Astoria, Queens in NYC by NYPD and ICE officers. He is currently being held at Pine Prairie ICE Processing Center in Louisiana.
Extrajudicial killings in Bangladesh have been well documented, including by the U.S. State Department. Sending Ibrahim back to Bangladesh would mean him being #DeportedToDeath
IBRAHIM MUST BE REALEASED NOW!
Please Take a Moment to make a call and Demand Ibrahim's Release
Newark ICE Field Office: 973-776-3240
- Press 2, then
- Press 4
Sample Script: "Hi, my name is __, and I am calling to demand that you release Ibrahim Momin (A# 088 440 468). Ibrahim fled Bangladesh after a brutal attack as a result of his father's political activities and affiliations. After Ibrahim fled to save his life, his father was killed by his political opponents. Ibrahim life will be in danger should he be deported back to Bangladesh. He should be released so he can continue building his life with safety."