To:

The City of Aurora, Colorado & Owner of Denver Meadows Mobile Home Park - Shawn Lustigman
Stop The Evictions, Community Control of Denver Meadows Mobile Home Park Now!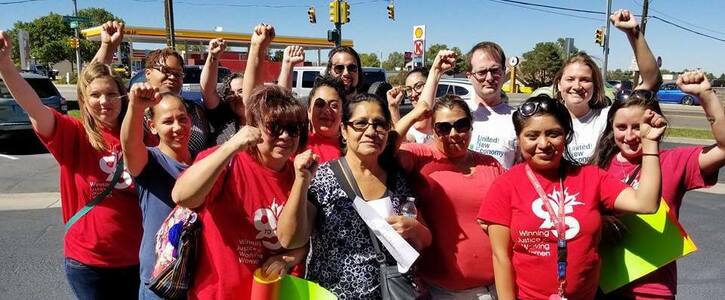 We demand that:
Shawn Lustigman stop the closure and eviction of more than 380 residents and children and accept Denver Meadows Residents Offer to Purchase the Mobile Home Park!
The Aurora City Council and Mayor pass an immediate moratorium on mobile home park redevelopment for 3-years and pass an ordinance to ensure the right of first refusal for mobile home park residents.
Why is this important?
83 families and about 400 latinx, immigrant and low-income residents, over half of them children of the Denver Meadows Home Park in Aurora, Colorado are facing imminent eviction by the park's owner Shawnn Lustigman. Lustigman has told the residents they must leave by June 2018 so he can close the property and sell it for millions of dollars of profit and pave the way for the gentrification of the Ward 1 District in Aurora - home to thousands of immigrant and refugee families. If the owner closes the park all of the families will be displaced without any guaranteed compensation and many will have to abandon their homes and everything they have invested in it.
But we can ensure a better ending! With your support we can stop this displacement AND support the residents of Denver Meadows to purchase the property and collectively own the land!
Context:
The residents of Denver Meadows have been organizing collectively since 2016 to stop the rezoning of their community and the gentrification of Aurora through community education, direct action and securing financing from Resident Owned Communities (ROC) USA to make a 'market-rate' offer to Lustigman to purchase the property as a collective and ensure that all of their families can stay.
Over the last 2 years Lustigman has retaliated with eviction notices, rent increases and targeting resident leaders. Recently, after significant community pressure, Lustigman turned down an offer of $20.5 million for the property and is moving ahead to close the mobile home park and carry out mass evictions of hundreds of latinx residents from Aurora!
The city of Aurora already has an approximately 12,000 deficit in affordable housing units, and many families would end up homeless if the park were to close. Mobile Homes are one of the only permanent and long-term affordable options for families - yet when park closures happen they not only leave families homeless, but often strip families of generations of wealth and savings. In reality 'mobile' homes aren't mobile - it costs between $6,000 - $20,000 to move to a new park, and with very little other housing available, demolition of the park would mean permanent displacement for most of the Denver Meadows families. For many families this would mean changing jobs, transitioning to new schools, longer commutes, the destruction of community fabric, more barriers to healthcare, affordable childcare, and food access.
Support Denver Meadows With Legal Fees:
Despite continuing to face retaliation, residents of Denver Meadows have pledged to continue to fight and need support from allies to keep fighting. Residents have found an attorney to help stop the retaliation and evictions against leaders but need funding to make this a reality.
Contribute to the Denver Meadows Anti-Displacement Fund Here! https://actionnetwork.org/fundraising/denvermeadows