To:

Vanderbilt University
STOP Wage Theft at Vanderbilt Divinity School Renovation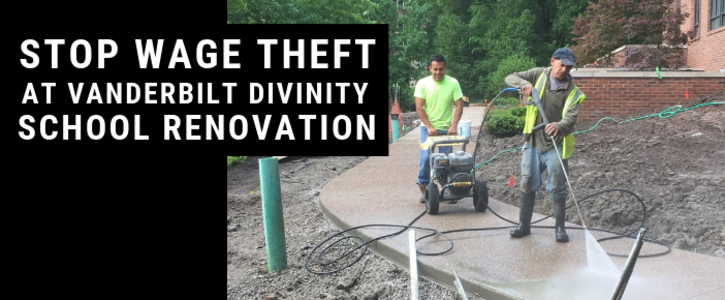 We the undersigned request that Vanderbilt University ensure full and immediate payment of all crews who have worked on the Vanderbilt Divinity School renovation and expansion project.
Why is this important?
Between May 2018 and June 2019, Armando Arzate and his fellow workers put long hours of skilled labor into Vanderbilt Divinity School's expansion. Vanderbilt University contracted with Orion Building Corporation, their frequent construction partner, to oversee the project. Orion Building Corporation then subcontracted with Joe Haas Construction Company for cement work, and Joe Haas Construction hired Armando and his team. Even when Joe Haas started withholding wages, the workers continued and completed the work with pride and skill, determined to stay true to their word. At this time, Armando and his team are awaiting $66,000 in claimed wages.
Armando and the other workers, with the support of VDS student and alumni volunteers, have repeatedly requested of both Joe Haas and Orion that their wages be paid, only to be met with threats and indifference. This week, over a month after we initially reached out to them, members of the administrations of Vanderbilt University and Vanderbilt Divinity School met with us and heard our concerns. They listened as Armando once again described how he and his crew has been mistreated, and they expressed their intention to investigate and seek a resolution. However, they did not commit to a schedule for payment, and meanwhile Armando and his team continue to experience economic hardship. Until they are paid we will not relent in ensuring that the administration faces the urgency and the weight of this situation.
It is shameful that Vanderbilt University would allow the buildings and infrastructure that provide opportunities to its students to be built with exploited labor. It is all the more a moral travesty that Vanderbilt Divinity School, which professes to be committed to justice and liberation, will be celebrating the grand opening on August 23 of a new addition built by workers who continue to suffer. Guests will mingle and admire floor tiles declaring "JUSTICE" and "LOVE," but the declarations will be hollow and ironic.
Vanderbilt University has the opportunity to redeem this situation by doing all in their power to influence Orion to make their subcontractor, Joe Haas, pay their workers the $66,000 in claimed wages, or if necessary to take responsibility and correct the deficit themselves. It is also incumbent upon Vanderbilt University to publicly cease business with Orion until Orion commits to using high road contractors that treat their workers fairly, and that quickly address any violations.
Armando and his fellow workers are suffering because of the greed of Vanderbilt University and its contractors, and we must join together to correct this injustice immediately.
________________________________________________________________________________________
PETICIÓN: Alto al Robo de Salario en la Renovación de la Escuela de Teología de Vanderbilt!
Nosotros quienes firmamos abajo pedimos que la Universidad de Vanderbilt asegurar el pago completo e inmediato de todos los trabajadores quienes han trabajado en el proyecto de expansión y renovación de la Escuela de Teología de Vanderbilt.
Entre Mayo de 2018 y Junio de 2019, Armando Arzate y sus compañeros de trabajo pusieron horas largas y trabajo especializado para expandir las instalaciones de la Escuela de Teología de Vanderbilt. La Universidad Vanderbilt contrató con el Orion Building Corporation, su contratista frecuente, para manejar el proyecto. Orion luego subcontrató con Joe Haas Construction Company para trabajo de concreto, y Joe Haas Construction contrató a Armando y su equipo. Aun cuando Joe Haas Construction empezaba a retener sus pagos, los trabajadores siguieron y terminaron el trabajo con orgullo y habilidad, comprometidos a comprobar su palabra. En este momento, Armando y su equipo siguen esperando $66,000 en sueldos no pagados.
Armando y los demás trabajadores, con apoyo de estudiantes y graduados voluntarios de Vanderbilt, han pedido varias veces que Joe Haas y Orion paguen la cantidad debida, y respondieron con indiferencia y luego amenazas. Esta semana, más que un mes después de que los contactamos, administradores de Vanderbilt y la Escuela de Teología se reunieron con nosotros y nos escucharon. Escucharon mientras Armando otra vez les contaba cómo el y su equipo habían sido maltratados, y expresaron su intención de investigar y buscar una resolución. Sin embargo, no comprometieron a una fecha de completar el pago, mientras que Armando y su equipo siguen en condiciones de dificultad económica. Mientras no han recibido su pago completo no paramos de asegurar que la administración se enfrenta con la urgencia y peso de esta situación.
Es una vergüenza que Vanderbilt permita que sus edificios y infraestructura, que proveen oportunidades a sus estudiantes, sean construidos con labor explotado. Es un escándalo moral que la Escuela de Teología de Vanderbilt, lo cual expone un compromiso a la justicia y la liberación, celebrará la apertura de la adición construida por trabajadores quienes siguen sufriendo. Los visitantes se festejarán y admirarán la loseta declarando "JUSTICIA" y "AMOR," pero estas declaraciones serán vacías y hipócritas.
Vanderbilt tiene la oportunidad de redimir la situación, usando su poder sobre Orion para asegurar que la contratista Joe Haas pague sus trabajadores los $66,000 en pagos reclamados, o si se necesaria tomar la responsabilidad de pagar lo que falta ellos mismos. Vanderbilt debe de dejar de pasar contratos a Orion hasta que Orion se compromete a usar solamente contratistas quienes tratan correctamente a sus trabajadores, y arreglar inmediatamante cualquier irregularidad.
Armando y sus compañeros de trabajao están sufriendo por la avaricia de Vanderbilt y sus contratistas, y tenemos que corregir esta injusticia inmediatamente.