To:

Mayor Deanna Reed, Richard Baugh, Chris Jones, Ted Byrd, George Hirschmann
Tell City Council to make Harrisonburg a Sanctuary City!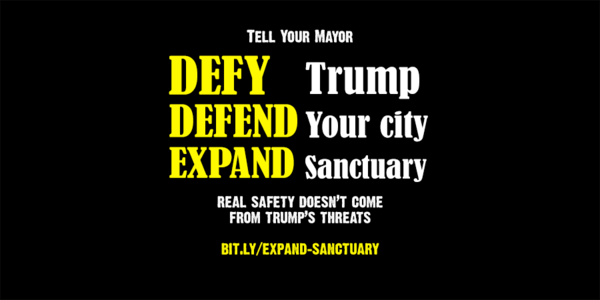 The Harrisonburg Mayor and City Council should stand up for and stand behind Harrisonburg's commitment to welcoming our immigrant and refugee population by going one step further and making Harrisonburg a sanctuary city.
Why is this important?
Donald Trump just announced executive action that threatens any town or city that seeks to protect immigrant residents from the deportation machine. What he's trying to do is roll back the leaps forward we've made in recent years but we won't let him. In 2017, it's the efforts to defend Black lives and protect migrant rights that make our cities safer, not Trump's extra enforcement promises. To keep us safe, we need to evolve our local policies to make our cities real sanctuaries for all residents, not cancel them because of the President's latest actions.
In 2016, Harrisonburg City Council passed the "Welcoming America" resolution, signaling its commitment to join a national network of communities that are working together to make it easier for newly arrived immigrants and refugees to adjust to their new life. According to the United States Census, 15.5% of Harrisonburg's population is foreign-born. The "Welcoming America" resolution aimed to make that transition as easy as possible for those who want to achieve the American Dream. It was founded on the principle that when communities welcome and support newcomers, the community becomes a better place for everyone.
Tell our mayor and city council to stand up to Trump and take action that doesn't just symbolically defend immigrants, but transforms our city's policies to stop targeting us for imprisonment, risk of removal, and state violence at the hands of police and aggressive immigration agents. The President's threats should be cause to embolden our city leaders, not an excuse to abandon our potential progress.
To keep our community safe, friendly, and welcoming, we need to adopt local policies that make our city a real sanctuary for all residents. This requires a commitment to separating the work of our local police officers from that of federal immigration enforcement, addressing policing practices that criminalize immigrant residents AND funnels Black, LGBTQ, poor people, those with mental illness, and other residents to jail. In 2017, it will be the efforts to protect and defend human rights that will make our cities safer. Tell our mayor and city council that we do not want our community to be divided. Demand that they make Harrisonburg a sanctuary city.
Endorsing organizations: Southerners On New Ground (SONG) , Harrisonburg Indivisible, Virginia Organizing, Comite Salvadoreño de Paisanos Unidos (COSPU)
To add your organization as an endorser please email [email protected]