To:

Governor Jay Inslee and Mayor Victoria Woodards
Crisis at the Northwest Detention Center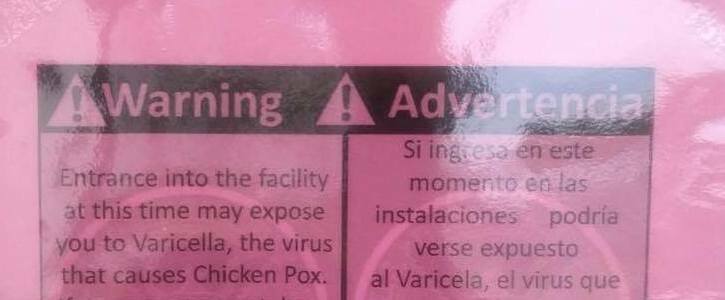 Cancel the business license of the Northwest Detention Center, support the immediate release of all those with medical issues including those with varicella or exposed to varicella, and the permanent shut down of the facility that continues being a center of exposure to medical neglect and human rights violations.
Why is this important?
Last month, US Immigration and Customs Enforcement's Northwest Detention Center (NWDC), owned and operated by The GEO Group in the City of Tacoma, witnessed an outbreak of both contagious diseases and health hazards due to an e-waste fire. It is vital that lawmakers ensure the health and safety of Tacoma city and Washington state residents in the wake of both a spontaneous fire and escalation of an on-going contagious disease outbreak. These demonstrate a growing health and safety crisis in the City of Tacoma in the hands of GEO Group, a private corporation without transparency and accountability to local residents.
Key events include:
1. On Monday September 17, 2018, at approximately 2am, an e-waste file spontaneously combusted into a fire 300 meters from the NWDC, which lasted for more than 10 hours and required Tacoma Fire Department presence for hours after. Tacoma Fire Department requested "people avoid the immediate area" even after the fire was under control and tweeted that "If in the area, caution should be used to avoid inhaling fumes." While Simon Metals employees had personal protective equipment (PPE) and were quickly evacuated, and Port of Tacoma stopped operations and tweeted "Due to a fire in the Tideflats, all terminal operations in Tacoma are on hold until air quality improves. Normal Operations are expected to resume as soon as the wind shifts," people detained were neither provided with PPE nor informed about the cause of smoke enveloping the NWDC. On September 17, activists received calls from people reporting that they were coughing and experiencing symptoms from bad air quality including chest pain, headaches and vomiting within their units but they did not know what was going on. Neither ICE nor GEO Group employees explained that there was an e-waste or offered appropriate measures, which is of grave concern for people suffering from respiratory illnesses, including inhalers for people with asthma. When many people detained filed kites to find out what had happened, it still took the warden over a week to respond.
We ask that the governor take personal responsibility, along with city and state lawmakers who participated in the siting, zone and permitting of the NWDC and the e-waste recycling in close proximity, for investigating the effects of the e-waste fire. We ask both that the state Department of Ecology investigate the cause of the spontaneous fire and the potential chemical exposure, and that the state Department of Health ensure that people detained receive appropriate medical treatment or remediation if they were exposed to harmful or toxic chemicals in the air. We also request any information provided to the City of Tacoma regarding the handling of the fumes at NWDC by The GEO Group and Immigration Customs Enforcement as well as by Tacoma Fire Department.
2. 2018's second varicella outbreak in the detention center escalated to new levels. The outbreak reportedly had spread from two units on September 7, to at least six units of the detention center on September 20, 2018: B2, G3, C1, A1, A3, and F2. GEO Group and ICE Health Services staff were not able to keep the disease contained, and more people were exposed within the medical clinic of the detention center on September 20 due to negligence from staff by mixing people detained waiting to be seen by the medics with people already exposed to the virus. Newly exposed people reportedly were moved to a seventh pod, F4. Based on people detained reports, the number of people exposed to the virus could reach at minimum 400 individuals. Varicella virus, or chicken pox, is a highly contagious disease that is mild in children but can be severe for adults, particularly those with other medical vulnerabilities. This poses significant problems both to human health and to due process, as people in quarantine cannot visit their legal counsel to prepare for their immigration hearings, but these hearings have not been rescheduled to the best of our knowledge.
We call on city and state lawmakers to follow up to find out if ICE Health Services and GEO Group have plans for containing this outbreak, if ICE and GEO are complying with their own plans, and to ensure that they are making vaccinations available to unvaccinated adults. We would like city and state public health officials to visit people held in quarantined pods (not just an official tour) to make sure that proper procedures are in place and being followed.
3. This week marks the seventh week of hunger strike on the part of one individual, demanding among other things access to medical care, with others participating in hunger strikes of shorter duration. Of particular concern is the issue of force-feeding, a form of torture. Two civil rights lawyers filed a lawsuit against ICE last week in order to block the force-feeding of two individuals at NWDC. On Tuesday, September 18 a hearing for this lawsuit was canceled, because Judge Benjamin H. Settle claimed that it was against the wrong party: GEO Group should be sued instead of ICE. However, ICE sets policy for hunger strikes and force feeding, and also runs the medical facilities at the detention center, where force-feeding would take place.
We call on city council officials and state legislators to visit individuals who have participated in hunger strikes. This is crucial to both understand the context of their demands for basic medical care (that GEO and ICE have denied them), as well as to ensure their first amendment right of freedom of speech is protected. To do so, city and state lawmakers must investigate why orders to force-feed have been sealed, and how to obtain more information about such records.
We sincerely hope that you will act and respond to our requests to these three urgent health and safety issues to ensure that detained immigrants have access to clean air and water, medical care when required and access to legal counsel as required by law.
How it will be delivered
We will deliver the petition in person to the City Council of Tacoma on October 9th.