To:

Mayor Charles Stone
Declare Belmont a Sanctuary City to Protect Our Vulnerable Residents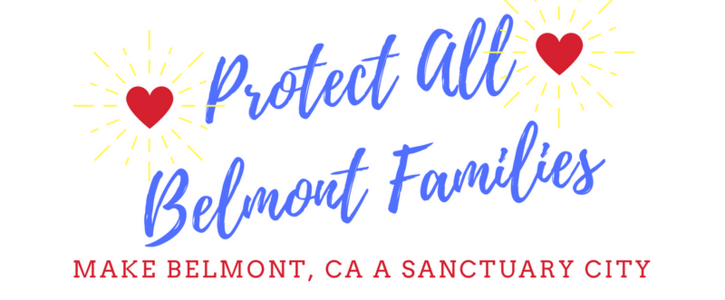 Support Mayor Charles Stone and Belmont City Council in passing a Sanctuary City Ordinance that protects some of our most vulnerable residents from unjust federal immigration laws and prevents the use of our city's resources to target the people of Belmont for imprisonment, deportation, and destruction of our families.
Why is this important?
Donald Trump signed executive orders that threaten Belmont residents with dramatic increase in efforts to detain and deport undocumented immigrants. It puts a violent criminal on the same level as a Belmont parent of US citizen children who works and contributes to our community and who now lives in a heightened state of fear of deportation and destruction of family.
To keep us safe, we must evolve our local policies to make Belmont a sanctuary for all our residents, no matter what the outcome of the legal battle that has ensued.
As a Sanctuary City, Belmont would be prohibited from using any funds or resources to assist in the enforcement of federal immigration law or from gathering or disseminating information about the immigration status of its community members.
Immigration enforcement is not the responsibility of municipalities. Belmont has bigger public safety priorities and too few resources to take on immigration enforcement.
More importantly, cracking down on undocumented residents undermines Belmont's community relations, funnels resources away from important local services, and motivates residents to fear cooperation with crime prevention efforts, which makes all Belmont citizens less safe.
We must join model Sanctuary Cities, including San Francisco, San Jose, Oakland, Berkeley, Los Angeles, New York, Chicago, Boston, and Washington, D.C. in a commitment to clear sanctuary policies, even in the face of federal threats to cut funding.
The President's threats to our Belmont community must embolden our city leaders, not be an excuse to abandon our progress in creating a thriving, safe community for all of our residents. We must proudly and boldly make Belmont a Sanctuary City.