To:

El Paso ICE Field Office
Free Jesús Lorenzo-Ávila from physical abuse and retaliation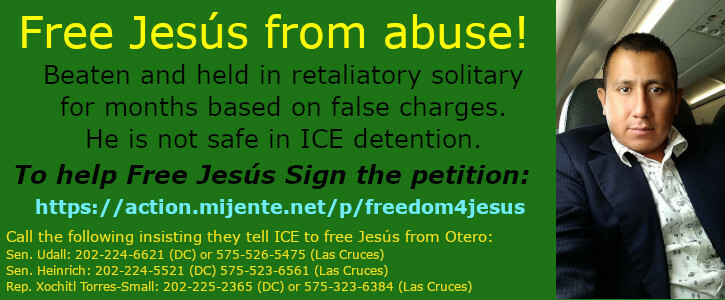 For his own safety and protection from prolonged physical and verbal abusive retaliation, Jesús Lorenzo-Ávila must be released from ICE detention on bond on his own recognizance.
Why is this important?
For the better part of a year, Jesús Lorenzo-Ávila suffered multiple instances of physical and retaliatory abuse at the hands of El Paso Service Processing Center detention facility staff. Verbal harassment and vindictive retaliation now continue at the Otero County Processing Center. For his safety, we demand the immediate release of Jesús from ICE custody.
Last year at the El Paso Service Processing Center, Jesús was falsely accused of breaking facility rules and placed in prolonged solitary confinement on multiple occasions. At this detention facility, local advocacy groups have documented a recurring pattern of false accusations and retaliatory use of solitary. Targeted for his sexual orientation, and for his courage to assert his rights, Jesús suffered multiple instances of solitary confinement. In January of this year, the retaliation reached a crescendo when Jesús was beaten by a guard and taken to the hospital. Upon his return to the facility, staff falsely accused him of having assaulted the guard. Jesús was placed back into solitary, denied friend and legal visits, and on one occasion left in his cell in his underwear for not donning the red uniform indicative of high security individuals. Jesús refuses to be treated as a criminal by the very criminals who assault him, and covered it up.
Now at the Otero County Processing Center, Jesús is again being targeted for retaliation. At Otero, he spent 30 days in solitary confinement, was released for a single day, again falsely accused by facility staff, and placed back into solitary for at least another 15 days. Right now he is in solitary confinement.
Facility staff at both El Paso and Otero rely on fear and intimidation to keep people quietly compliant when their rights are violated. When someone like Jesús courageously stands up without fear to speak up for himself and those around him, the consequences are violent. Clearly Jesús is not safe in a detention facility. He has been discriminated against, violently beaten, and psychologically tortured in solitary confinement by privately contracted detention center staff. ICE is fully complicit with this treatment. For his own safety, Jesús must be released from detention. We also demand an investigation into the abuses at both the El Paso and Otero facilities, and for those who are responsible to be held accountable.
____________________________________________________________________
UNIVISION story covering Jesús "Esto es tortura": Así hablan los inmigrantes que han sido aislados por tiempo prolongado en celdas de castigo | "Victims of torture?" Immigrants complain of lengthy punishment in solitary confinement cells". https://tinyurl.com/y428qkb2
Recent News about conditions impacting the safety of LGBTQ persons detained at Otero
ACLU-NM. Letter of Complaint. "Detention Conditions Impacting the Safety and Well-Being of LGBTQ Immigrants in the Otero County Processing Center." Letter of Complaint, March 25, 2019. https://www.aclu-nm.org/sites/default/files/field_documents/advance_copy_of_3.25.2019_las_americas_santa_fe_dreamers_project_aclu-nm_letter_to_dhs_re_otero.pdf
Bixby, Scott. "Trans Migrant Women in ICE Detention Allegedly Told to Bathe With Men." The Daily Beast, March 27, 2019, sec. politics. https://www.thedailybeast.com/trans-migrant-women-in-ice-detention-allegedly-told-to-bathe-with-men
Moore, Robert. "Gay, Transgender Detainees Allege Abuse at ICE Facility in New Mexico." Washington Post, March 25, 2019. https://www.washingtonpost.com/immigration/gay-transgender-detainees-allege-abuse-at-ice-facility-in-new-mexico/2019/03/25/e33ad6b6-4f10-11e9-a3f7-78b7525a8d5f_story.html?noredirect=on&utm_term=.cd3ec8a69a9d
How it will be delivered