To:

Gov. Jay Inslee and Washington State Legislature
Washington Should Provide Support for Immigrants Whose Information State Agencies Released to ICE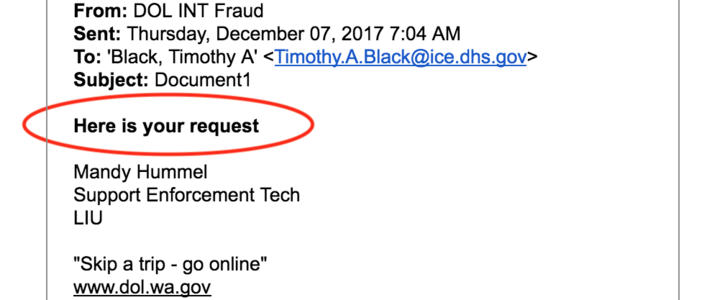 The state of Washington has a responsibility to the people whose information was released to Immigration and Customs Enforcement (ICE) without their consent and without a warrant.
This information is directly responsible for the detention and deportation of many individuals, including Washington-state undocumented activist, Maru Mora-Villalpando, who currently faces deportation.
We urge Governor Inslee to go beyond investigating the mistake and take proactive steps towards repairing the harm that they have done to immigrants and prevent being an active participant in future deportations, including:
1) Stop all collaboration between ICE and Washington State agencies. The Governor should use his executive power to implement key protections from SB 5689, the "Keep Washington Working" bill.
2) Offer support for people facing detention, deportation, or removal, as a result of the actions of the Washington State DOL, including assistance securing legal representation for deportation defense, supporting with payment of legal fees, and offering access to economic assistance and mental health services for families impacted by the release of information;
3) Contact all individuals whose information was released to inform them of the privacy breach, including informing them of which documents were released to ICE, and any other information requested by ICE.
4) Make the findings of the current review of state agencies and their relationship to ICE announced by Governor Inslee on January 19, 2018, and appoint an an independent oversight committee established to monitor state cooperation with the federal immigration government.
Why is this important?
Through organizing to defend Washington-based organizer and undocumented mother, Maru Mora-Villalpando, we found documents that show that the WA Department of Licensing (DOL) shared her personal information, including a copy of her driver's license, with ICE.
Last month, the WA state DOL admitted to giving ICE information on undocumented immigrants "20 or 30 times per month" without requiring a criminal warrant.
WA-DOL information sharing has exposed a tremendous weakness in the state's laws and policies, including last year's executive order by the governor's office.
WA-DOL information sharing has affected many lives. The State of Washington has a responsibility to the people who were affected.