To:

Isaac Middle School: Principal Robert Miller and Superintendent Ventura
Phoenix Students Demand Police Officer be Fired after Pepper-Spray and Handcuffing of 6th Grader!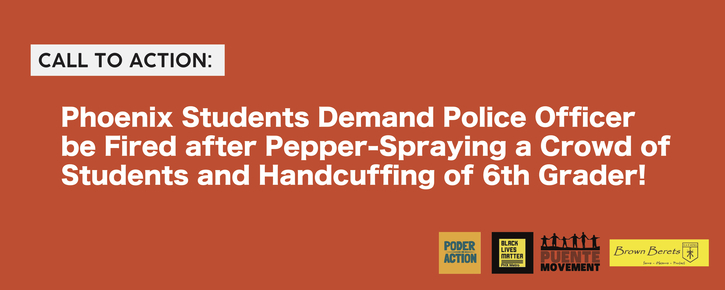 Phoenix, AZ -- A coalition of civil rights and advocacy organizations are joining students from Isaac Middle School in calling for the termination of an officer accused of pepper-spraying students at the school during an Oct. 18 incident and handcuffing a teenage girl on campus. Students are also demanding that the Isaac Elementary School District facilitate a more transparent process in its review of the incident.
"Students have rights too. We need to restore and strengthen students not create more fear in our schools; knowing that the officer is still on campus and that he could do this again does not make us feel safe - he needs to be removed immediately," said Eighth-grade student currently enrolled at Isaac Middle School.
Two incidents have occurred - the first on Oct.18th and the second today, on October 25th. During the first incident on Oct. 18, a fight broke out at the middle school between two female students near the special education classrooms, attracting a crowd of students. According to video footage of the incident, Officer Philip Vavrinec, a school resource officer, approached the students and released pepper spray into the crowd. At least two dozen students were impacted by the pepper spray in their face and eyes. Officer Vavrinec gave no warning before pepper-spraying the students, according to the video. As of today, the school district has not responded to the incident and has not alerted parents that students were pepper-sprayed. Today,young teenage girl from Isaac Middle School was handcuffed and arrested by the same SRO.
Students and teachers are joining the coalition that includes Puente Human Rights Movements, Black Lives Matter Phoenix Metro, Arizona Brown Berets and Poder in Action. The coalition is calling on the school district to officially respond to the incident and to facilitate an independent investigation.
"What Officer Vavrinec did endangered the lives and wellness of not only students but faculty as well. It is deeply disturbing that the school district is condoning his actions through their silence and failure to notify parents about what took place," said Maxima Guerrero, a Puente organizer. "This is not how we should be treating young people in Phoenix. We must restore trust in Isaac Middle School and build an environment on campus that is responding to the needs of students, teachers and its community."
SRO Pepper- Spray Incident on Friday, October 18th @Isaac Middle School
https://www.youtube.com/watch?v=FckJSRuGfus&feature=youtu.be
SRO Arrests Teenage Girl On Campus Friday, October 25th @Isaac Middle School
https://www.youtube.com/watch?v=TjSMXN1dzCA
Why is this important?
The community asks for accountability and demand the following:
DEMANDS:
1. We must hold both Principal Robert Miller and Superintendent Ventura accountable and demand transparency they must release a statement about the incident with the SRO and not ignore the impact it has caused students, teachers and concerned parents.
2. School must remove School Resource Officer Philip Vavrinec from school grounds.
Isaac Middle School must change the culture of how we deal with conflict in Isaac Middle School by adding more counselors to help students on campus.
3. When we say, cultura not cops, we mean more ethnic studies programs, more teachers and counselors that have critical consciousness and the cultural competency training to empower and support students in order to create a well rounded learning environment.
4. We want an independent investigation of civil rights abuses at Isaac Middle School by School Resource Officers.